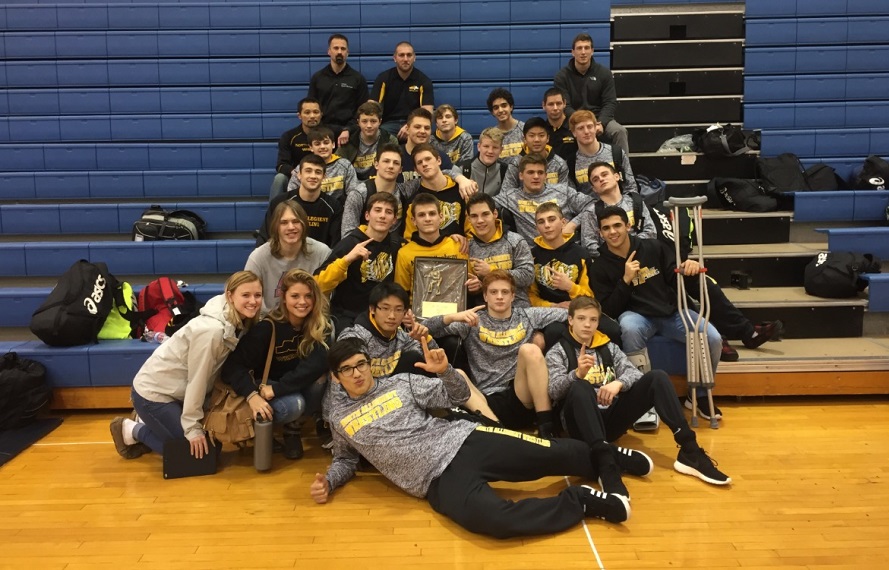 NA Seizes Section 3-AAA Crown, Tops Titans For Title
The North Allegheny wrestling team dethroned the reigning section champion Shaler Titans with a 45-27 victory for the Section 3-AAA title on Wednesday night. The Tigers opened the section tournament with a 51-11 victory over Seneca Valley and followed that up with a title triumph over the Titans to cap the night. It's 15th time in the last 17 years the Tigers have either won or shared the section crown.
Beginning the evening against Seneca Valley in section semifinals, the Tigers easily disposed of the Raiders thanks in part to five wins by fall. Eric Hong (170), Jacob Fritsch (195), Derek Devine (285) Freddy Junko (106) and Zach Stedeford (138) all collected pins against the Raiders. Jake Woodley tallied a tech fall win over Drake Church at 220 pounds and Jacob Downing claimed an 11-0 major decision over Jason Geyer at 113 pounds for a bonus point win.
After cruising against Seneca Valley, the Tigers took on Shaler for the Section 3 championship. On their way to the section title last season, the Titans edged the Tigers in the section semifinals, 34-33. In the rematch, North Allegheny earned a true measure of revenge for a convincing 45-27 victory.
Starting at 160 pounds, North Allegheny opened a 21-0 lead thanks to a 4-1 decision by Jon Hoover, a win by forfeit by Hong at 170, and back-to-back pinfalls by Fritsch and Woodley at 182 and 195 pounds, respectively. Shaler was chasing the Tigers for the remainder of the night, and despite winning five bouts, never came within striking distance. North Allegheny put the match out of reach with the help of Devine (285) and Jake Hinkson (145) who earned wins by fall in their respective weight classes. Junko also picked up a win by forfeit at 113 pounds.
With the section title, North Allegheny improves to 7-0 overall on the season and will head into the WPIAL Team Tournament next week with a ton of momentum. The WPIAL wrestling steering committee will meet today to establish the team tournament brackets.
Section 3-AAA Championship Match
North Allegheny 45, Shaler 27
Third-Place Consolation
Seneca Valley 37, Butler 31
Fifth-Place Match
North Hills 48, Pine-Richland 32
Semifinals
Shaler 42, Butler 36
North Allegheny 51, Seneca Valley 11
************
Section 3-AAA Championship Summary: NA vs. Shaler
| Weight | Wrestlers | Score |
| --- | --- | --- |
| 160 | Jon Hoover (NA) dec. Jon Frazier (SH) | 4-1 |
| 170 | Erin Hong (NA) wbf | |
| 182 | Jacob Fritsch (NA) pinned Noah Sampson (SH) | 1:07 |
| 195 | Jake Woodley (NA) pinned John Harker (SH) | 0:41 |
| 220 | Ron D'Amico (SH) pinned Benjamin Smallwood (NA) | 1:10 |
| 285 | Derek Devine (NA) pinned Julian Schiebel (SH) | 1:09 |
| 106 | Ryan Sullivan (SH) wbf | |
| 113 | Frederick Junko (NA) wbf | |
| 120 | Jacob Downing (NA) dec. Dylan Winters (SH) | 3-1 |
| 126 | Ian Scarberry (SH) dec. Gabe Falo (NA) | 2-0 |
| 132 | Garrett Reinsfelder (SH) pinned Nick Marcenelle (NA) | 1:05 |
| 138 | Zach Stedeford (NA) dec. Eric Warren (SH) | 3-1 |
| 145 | Jake Hinkson (NA) pinned Ed Schearer (SH) | 0:40 |
| 152 | Jake Pollak (SH) wbf | |
************
Section 3-AAA Semifinal Summary: NA vs. Seneca Valley
| Weight | Wrestlers | Score |
| --- | --- | --- |
| 152 | Jon Hoover (NA) dec. Hunter Vokes (SV) | 7-2 |
| 160 | Jacob Smalley (NA) dec. Gavin Funovits (SV) | 5-1 |
| 170 | Erin Hong (NA) pinned Ty Gross (SV) | 1:02 |
| 182 | Patrick Johnson (SV) dec. Jimmy Turici (NA) | 5-0 |
| 195 | Jacon Fritsch (NA) pinned Sam Baic (SV) | 1:53 |
| 220 | Jake Woodley (NA) tech fall Drake Church (SV) | 19-3 |
| 285 | Derek Devine (NA) pinned Kevin Meeder (SV) | 2:50 |
| 106 | Frederick Junko (NA) pinned Caden Leighty (SV) | 1:09 |
| 113 | Jacob Downing (NA) maj. dec. Jason Geyer (SV) | 11-0 |
| 120 | Louis Newell (SV) tech fall Gabe Falo (NA) | 18-2 |
| 126 | Gavin Jackman (SV) dec. Nick Marcenelle (NA) | 2-0 |
| 132 | Will Baierl (NA) dec. Nick Montalbano (SV) | 5-2 |
| 138 | Zach Stedeford (NA) pinned Drew Vlasnik (SV) | 3:21 |
| 145 | Jake Hinkson (NA) dec. Alex Fischer (SV) | 6-3 |