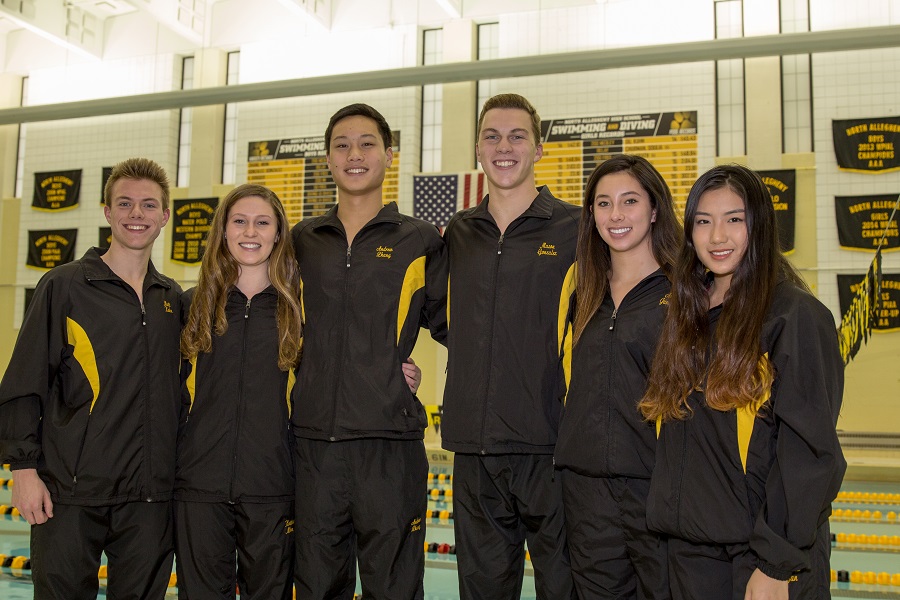 NA Seniors Finish With Victory
The North Allegheny swim team sent the senior class out with a victory over North Hills High School. The girls team won 90 -81 and the boys won 100 – 69.  The senior class of Ann Juneau, Kristine Mihm,  Serena Yan, Mason Gonzalez, Matt Kuhn, and Andrew Zhang became one of several NA senior classes that have won all their dual meets in their four year careers.
The three girl seniors, Kristine, Serena and Ann were joined by Torie Buerger to start the meet with a victory in the 200 Medley Relay.  The three boy seniors, Andrew, Matt, and Mason were joined by diver Dennis Knepp in winning the boys 200 Medley Relay.
Molly Smyers won the 200 Free and the 100 Free while Torie Buerger won the 200 IM and then the 500 Free.  Senior Kristine Mihm out touched fellow senior Ann Juneau in the 50 Free.  Seniors Mason Gonzalez and Andrew Zhang battled in the 50 Free with Mason pulling away for the win.  Mason went on to also win the 100 Fly.  Rick Mihm won the 100 Free and the 100 Breast while Richard Jensen won the 200 IM and Jack Wright won the 100 Back.
Seniors Ann Juneau, Serena Yen and Kristine Mihm were joined by Lila McGrath in winning the 200 Free Relay.  Diver Jordan Atkins joined swimmers Olivia Kisow, Torie Buerger,  and Molly Smyers to finish third.  The all diving team of Brooke Ferringer, Olivia Schenk, Alaina Kim, and Maya Ennis swam to a 6th place finish.   Josh Galecki teamed up with seniors Andrew Zhang, Mason Gonzalez and  Matt Kuhn to win the boys 200 Free Relay.  Joel Songer led divers Dennis Knepp,  Liam Cross and Lucas Rodgers to a 5th place finish.
The meet was concluded with both the girls and boys team winning the 400 Free Relay.   The all freshman team of Olivia Kisow, Molly Smyers,  Quinn Frost and Haley Miller made up the girls team.  The boys team was made up of Jerry Chen,  Joel Songer, Jack Wright, and Tolik Borisov.
Maya Ennis and Olivia Schenk led the girl divers with a first and second place finish.  Lucas Rodgers, Dennis Knepp and Liam Cross finished 1,2,3 for the boys.
The team returns to the pool on Saturday, February 17th for the Last Ditch meet.  Swimmers from the area will compete for one last chance to get the WPIAL qualifying times.  The meet is at North Allegheny and begins at 5pm.