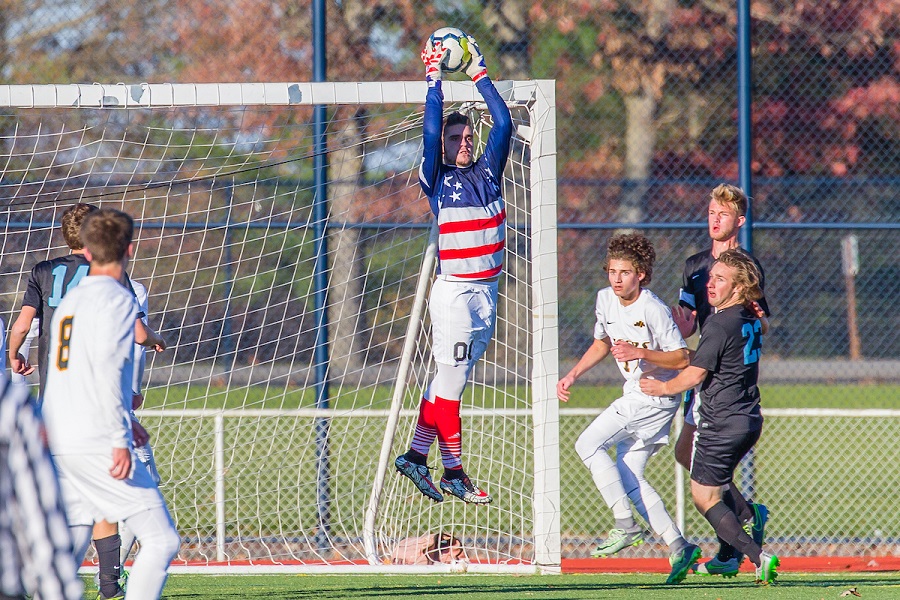 NA Silences Seneca Valley In PIAA Quarterfinals, 1-0
By Lee Mohn
The North Allegheny boys' soccer team did not need overtime on Saturday afternoon, but the Tigers were just as successful in regulation in a 1-0 win over Seneca Valley to claim a spot in the PIAA semifinals.  The loss was only the second of the season for Seneca Valley, both at the hands of the North Allegheny Tigers.
Seneca Valley almost took the early lead just 50 seconds into the game when Matt Happ put a header on the net but NA goalie Grant Glorioso was there for the stop.  Happ had another chance in the 22nd minute but Glorioso  was there again.  The Tigers would then strike for the only goal of the game in the 26th minute when Alex Goto sent a pass into the box and Cam Yurik was able to get a piece of it and knock into the back of the net.
The second half started with the Raiders in hot pursuit but the defensive play from Nick Williams, Christian Giannetti and Goto denied any good opportunities.  Owen Leonard had a golden opportunity early in the second half but a great defensive play by Thomas Washington for the Raiders kept the ball from going in.  The Raiders continued the offensive pressure but Glorioso made a couple key saves down the stretch to secure the victory.  Grant Glorioso was named the Wright Automotive player of the game for his efforts.
The Tigers will now take a road trip and play on Tuesday night against Conestoga from District 1 at a neutral site in the PIAA semifinals. North Allegheny improves to 17-2-5 on the season, while Seneca Valley's year comes to an end with a record of 19-2-1.