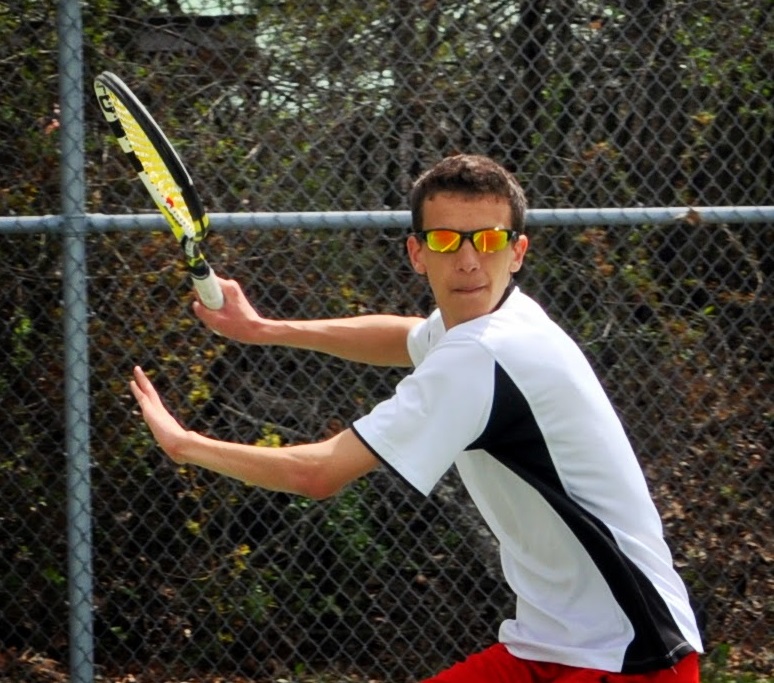 NA Slides By Hollidaysburg Tigers
After a long ride to Blair County area of Pennsylvania, the NA Tigers tangled with the Golden Tigers of Hollidaysburg from Section 6 in an exhibition match Monday afternoon.
The match was contested in a best-of-seven format, not usually played in WPIAL matches.  Junior Jared Isaacs led the hit parade at number one singles, defeating Sam Sky in straight sets.  Freshman Ivan Voinov continued with a straight set win at number three singles over Max Sheetz.  Completing the singles sweep was freshman Richard Hofmann who handled Eric Miller at second singles, also in straight sets.
The commanding 3-0 lead did not hold up, as Hollidaysburg took the first three doubles matches from the Tigers to even the score.  The fourth and deciding doubles contest paired senior Michael Helkowski and freshman Andrew Chuirazzi who delivered the match clinching win against Jesse Miller and Rohan Gupta.
Now 4-0 on the season, the Tigers will meet their new Section 2 rivals, the Knoch Knights, Tuesday afternoon on the NASH courts at 3:30 PM.
Match Summary (3/23/15)
North Allegheny 4  Hollidaysburg 3
Singles
#1  Jared Isaacs (NA) def. Sam Sky (H) 6-2, 6-0
#2  Richard Hofmann (NA) def.  Max Sheetz (H) 6-3, 6-3
#3  Ivan Voinov (NA) def. Eric Miller (H) 6-1, 6-1
Doubles
#1  Emre Cardukli/Josh Cobler (H) def. Andrew Xu/Eric Huang (NA)  8-5
#2 Rommy/Obeid/Anthony Menard (H) def. Apoorv Anand/Rohan Yadav (NA) 8-6
#3  Austin Finachio/Nick Viduya (H) def. Eric Mi/Aamir Khan (NA) 8-6
#4  Michael Helkowski/Andrew Chuirazzi (NA) def. Jesse Miller/Rohan Gupta (H) 8-1