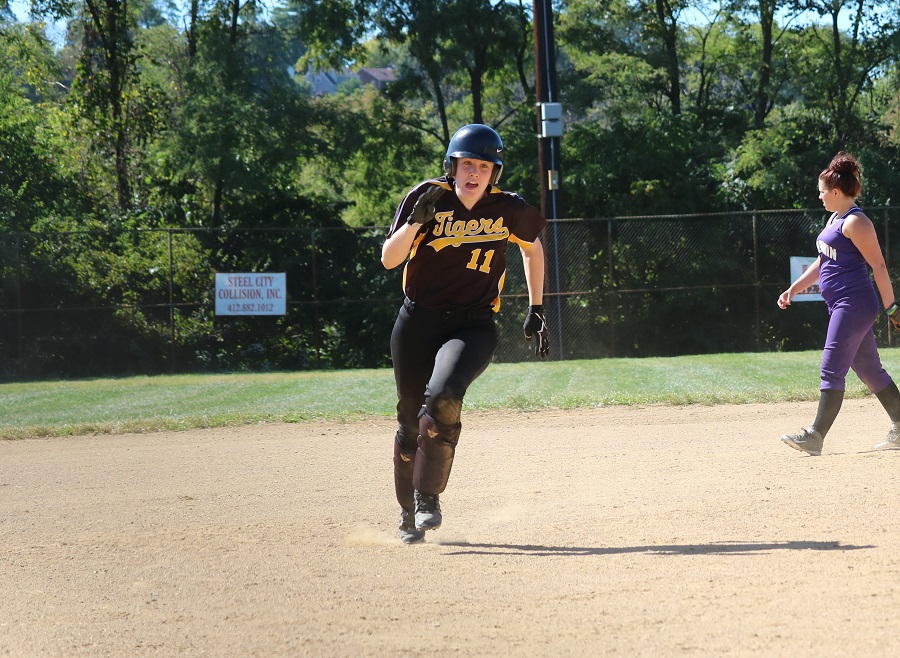 NA Slow-Pitch Runs Away From Baldwin For Sweep
The Lady Tigers traveled to  Baldwin last weekend to take on the Lady Fighting Highlanders and came away with a doubleheader sweep, winning game on, 18-16, and game two, 16-14. In game one of this doubleheader, it was a back-and-forth contest with several lead changes until the Lady Tigers took charge and closed out the win.  Senior Lacey Stalter was the winning pitcher.  In game two, the Lady Tigers exploded with an 11-run first inning to take a commanding lead of the game.  However, keeping true to their name, the Lady Fighting Highlanders did just that, chipping away at the NA lead to even the score midway through the game.  Some timely hitting and defense brought the victory home for NA, with the a final score of 16-14. Stalter earned her second win on the day.
Contributing offensively for the Lady Tigers was junior Kayla MacDonald who went 5 for 9 on the day with 9 RBI's, senior Carly Kovalchik who went 5 for 9 with 6 RBI's, and Stalter who went 5 for 9 with 3 RBI's.  Also adding to the offense was senior Jordyn Lilienthal  who went 6 for 9, and junior Julia Lagnese who went 5 for 10.  T
he Lady Tigers travel to North Hills on Sunday, October 2 at 4:15 PM at Herb Field where they hope to continue their winning ways vs. the Lady Fighting Indians.