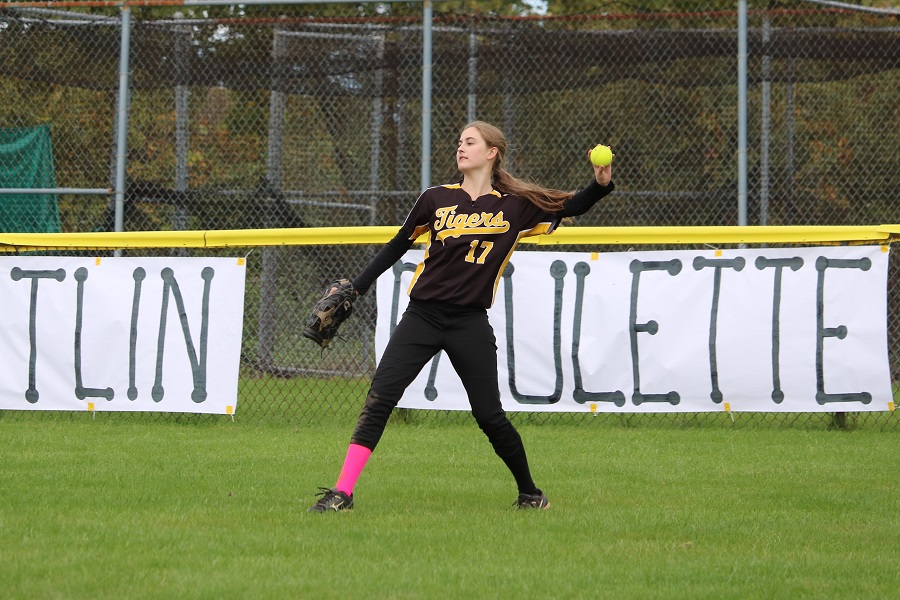 NA Slow-Pitch Tops Mt. Pleasant, Advances To Semifinals
The sixth-seeded Lady Tigers were visitors to the third-seeded Lady Vikings of Mt. Pleasant at Graham Park in the quarterfinal round of the WPISL playoffs.The Lady Tigers, still reeling over the regular season sweep of them by Mt. Pleasant, were determined to put a complete game together for this elimination round.
The Lady Tigers continued to set the tone early and often as their bats were red-hot and scored 19 runs through five innings.  Several defensive gems were also turned in by the Lady Tigers, including a great stretch and hold at 1st base by senior Jordyn Lilienthal, a critical double play by junior Kayla MacDonald at shortstop, and a game ending run-down put out by senior Carly Martin  between 3rd base and 2nd base.  Also, a dominating pitching and defensive performance was turned in by senior Lacey Stalter, who recorded her 10th win of the season.  The Lady Tigers upset Mt. Pleasant by a score of 19-5 in dominating fashion.
Leading the Lady Tigers on offense were senior Carly Kovalchik who went 1 for 3 with a 3-run home run and 3 RBI's, junior Julia Lagnese who went 3 for 4, senior Jordyn Lilienthal who went 4 for 4 with two 2-run home runs and 4 RBI's, senior Lacey Stalter who went 3 for 4 with 1 RBI, senior Carly Martin who went 2 for 4, junior Kayla MacDonald who went 3 for 4 with 2 RBI's, senior Paulette Rollant who went 2 for 3 with 2 RBI's, junior Claire Skirtich who went 2 for 4 with 2 RBI's, and freshman Abby Birch who went 2 for 3 with 3 RBI's.
The Lady Tigers advance to the semifinal round against the second-seeded Plum Lady Mustangs this Saturday at 4:00 PM at Blueberry Park Field #1.