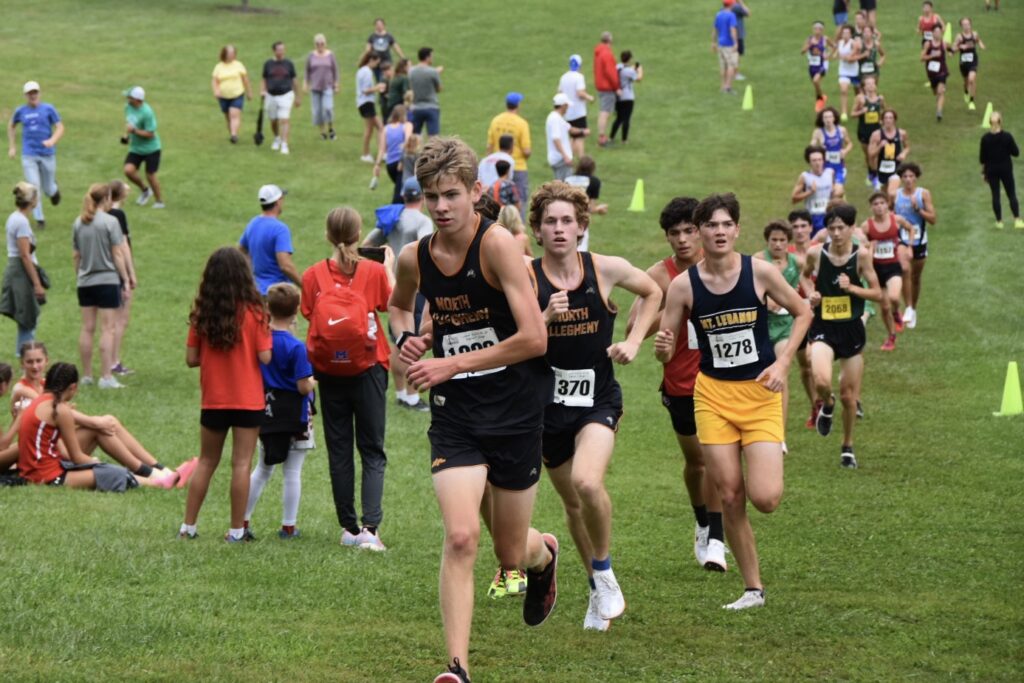 NA Stays Perfect Within Section
by Cross Country Contributor
The North Allegheny cross country team traveled to Schenley Park to face off against section rivals Pine Richland and Central/Oakland Catholic. Both the NA Boys and NA Girls kept their unbeaten streak going with two victories on the fast 5k course. Many NA runners were able to set lifetime 5k records on the fast course used by CMU and the University of Pittsburgh.
The NA Boys raced first and the Tigers took the lead from the outset. Tigers were able to put 12 in the top 14 of race.  Junior Jack Bertram led the way as usual for the Tigers, cruising to victory.  Senior Michael Gauntner kicked hard to pass a Pine Richland runner at the end, taking third overall.  After a PR boy, who took fourth place, along came 10 consecutive Tigers.  Senior James Behrend was next in fifth, junior Anthony Miklos had a strong race in sixth. Senior Connor Williams turned in another solid performance in seventh. Senior Alex Mitterer and junior Greg Abel rounded out the scoring seven. Miklos, Williams, Mitterer, and Abel all had personal bests. NA defeated Pine Richland, 22-39, and Central Catholic, 15-50 (perfect score).
The NA Girls were able to grab 11 of the top 15 spots the race. Juniors Wren Kucler and Robin Kucler cruised to a 1-2 finish. Senior Eva Kynaston was great in third with junior Camille Swirsding not far behind in fourth. Lily Ries helped to hold Pine Richland's number one girl, grabbing fifth overall, to give the Tigers the lowest score possible (15). Junior Elizabeth Pizon and senior Maia Getz both had lifetime personal records to round out the varsity scorers (7th and 9th pace respectively). The NA Girls had a nearly perfect score against Pine Richland (15-47) and Oakland Catholic (15-49).
The top 17 runners from both teams will head to Hershey for the PIAA Foundation meet.