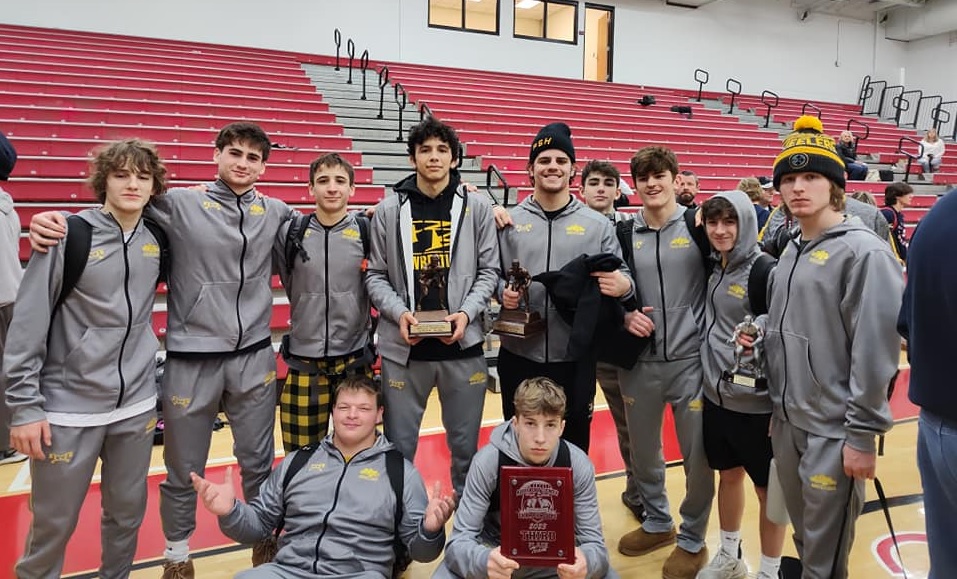 NA Takes 3rd Place At Allegheny County Tournament
The North Allegheny boys' wrestling team took part in the annual Allegheny County Tournament over the weekend at Fox Chapel High School and came away with a third-place finish. The Tigers tallied 202.5 team points, just 28 points behind first place Plum and 4.5 behind second place Pine-Richland.
Individually, North Allegheny crowned two Allegheny County tournament champions. Senior Jayson Flener earned a 4-1 decision over Quaker Valley's Logan Richey to win gold at 145 pounds. Junior Aidan Buggey won the tournament title at 215 pounds with a 4-0 decision against Braiden Sudor of Carlynton.
Reaching the title bout at 107 pounds was freshman Gus Stederford, who took second place with a four-win performance at the tournament, including a 14-4 major decision against Brock Dennison of South Fayette in the semifinal round.
Bronze medals were earned by seniors Nathan Monteparte and Adam Rohan at 133 pounds and 160 pounds, respectively. Monterparte picked an 18-5 major decision over Anthony Orlandini in his third-place bout. Rohan pinned Obama Academy's Dante Duncan in 1:56 to take third place at 160.
Junior William Bentrim garnered a fifth-place medal with a 2-1 decision over Logan Chedwick of West Mifflin at 127 pounds. Freshman Griffen Reid reached the fifth-place consolation at 121 pounds.
For a look at all North Allegheny results from the Allegheny County Tournament, click here.
The Tigers will return to section action on Wednesday night for the section finale against the Mars Planets on the road.