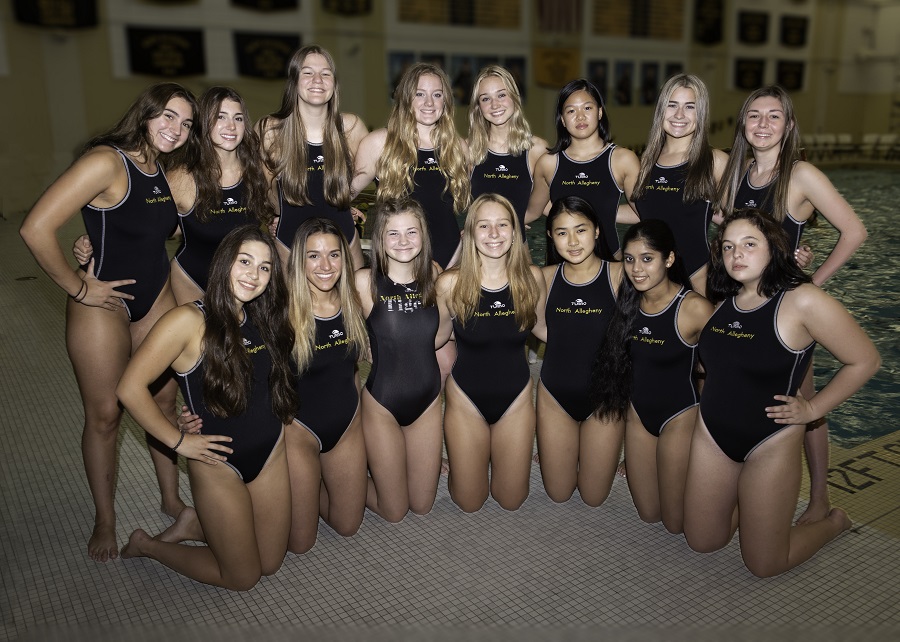 NA Takes 4th Place At State Finals
Fresh off winning their second consecutive Western Conference championship, the North Allegheny girls' water polo team took fourth place at the state championship this weekend. It's the highest finish for the Lady Tigers since taking fourth place at the state tournament in 2014.
Seeded third out of eight teams who qualified for the state championship event, NA opened the tournament on Friday night against Governor Mifflin. Tied 9-9 after three quarters, the Tigers pulled away from the Mustangs down the home stretch by outscoring their opponent in the final stanza, 6-3, for a 15-12 victory. Junior Rebecca Melanson and senior captain Anna Kegel led the way with seven goals apiece. Melanson facilitated the offense as well with four assists, while Kegel paced the defense with four steals. Senior captain Emma Donnelly also chipped in with a goal, and sophomore goalie Izzie Trunzo made 12 saves to earn the win.
After winning their opener, the Lady Tigers fell in a heartbreaker on Saturday morning to Wilson, 16-14, in double overtime. Melanson led the offense with six goals, and Kegel fired five markers into the back of the net. Donnelly contributed a pair of goals and senior Jamie Palone added one. Melanson had a fine all-around effort and tallied a team-high four assists and six steals. Senior Natalie Marquiss added four steals on defense. In net, Trunzo faced a barrage of shots from the Bulldogs and made 17 saves.
Exhausted from a hard-fought game with Wilson, North Allegheny dropped a 17-4 decision to Cumberland Valley in the third-place consolation matchup on Saturday night. Donnelly tallied a pair of markers, with Marquiss and Melanson scoring one each. Trunzo made seven stops in between the pipes.
Five Tigers earned All-State honors following the state tournament. With a team-leading 133 goals on the season, combined with 23 assists and 45 steals, Kegel earned first-team all-state laurels along with Melanson, who also surpassed the century mark with 101 goals. Melanson also posted a team-high 96 assists and 84 steals on the campaign.
Earning second-team all-state accolades were Donnelly and Marquiss. Donnelly totaled 37 goals, 18 assists and 16 steals. Marquiss posted 11 goals, 31 assists and 41 steals.
All-state honorable mention recognition went to Trunzo with 240 saves in 2021.
Congratulations to head coach Damir Matanovic and the entire North Allegheny girls' water polo team for posting an incredible 18-5 record, a second consecutive Western Conference crown and fourth-place showing at the state tournament.