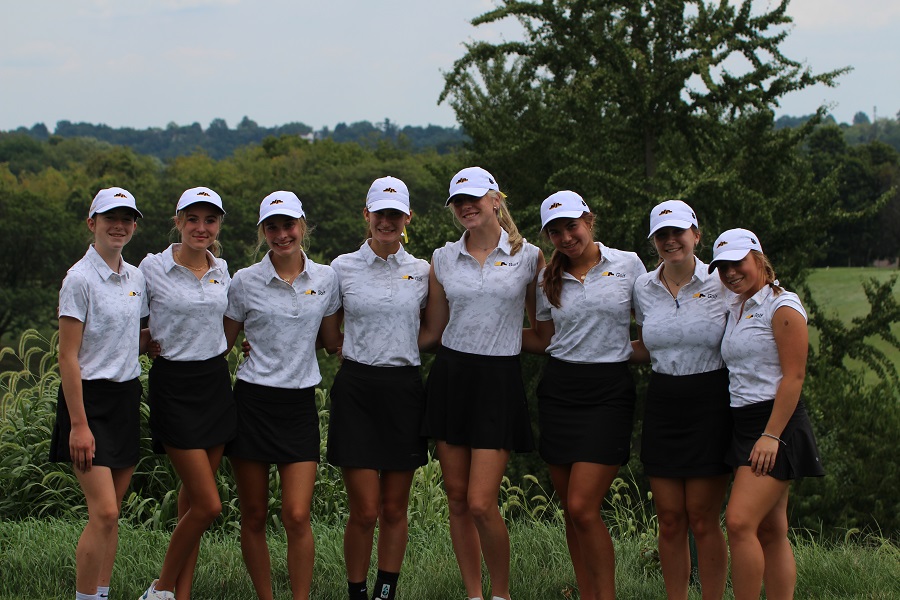 NA Takes Tri-Match To Begin 2022
The North Allegheny girls' golf team opened the 2022 campaign on Thursday afternoon with a triumphant tri-match at Mt. Lebanon Municipal Course in the south hills. The Tigers swept the tri-match with a 171, followed by Mt. Lebanon's 198 and Fox Chapel's 209.
Junior Megan Manesiotis was the clubhouse leader with a low score of 40. Senior Kate Rose Rankin was also impressive with a 41. Senior Lauren Kardos shot a 44 and freshman Kayli Dings rounded out the scorecard with a 46. Mt. Lebanon was led by Anna Kushnir's 46 and Fox Chapel was paced by Laila Golla's 49.
With Thursday's outcome, North Allegheny will take a 2-0 record into a home tri-match with Penn-Trafford and Upper St. Clair on Tuesday at 3:30 p.m.
| Match Summary | | | | | |
| --- | --- | --- | --- | --- | --- |
| NORTH ALLEGHENY | SCORE | MT. LEBANON | SCORE | FOX CHAPEL | SCORE |
| Katie Rose Rankin | 41 | Maddie Zerega | 52 | Laila Golla | 49 |
| Megan Manesiotis | 40 | Anna Kushnir | 46 | Lucy Rygelski | 52 |
| Lauren Kardos | 44 | Tess Kanche | 51 | Baustin Bitar | 57 |
| Kayli Dings | 46 | Athena Renton | 49 | Riley Perka | 51 |
| | | | | | |
| TOTAL | 171 | | 198 | | 209 |
| | | | | | |
| Amber Roth | 49 | | | | |
| Kate Gilliland | 60 | | | | |
| Megan Gross | 54 | | | | |
| Mia Valentine | 65 | | | | |