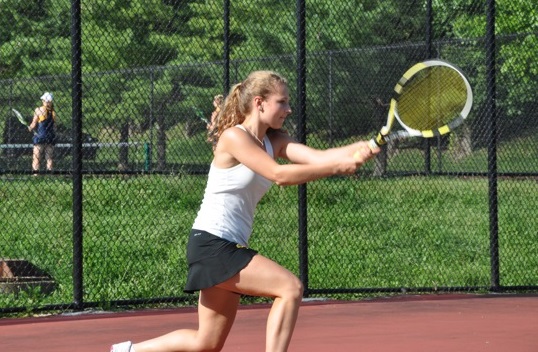 NA Tennis Punishes Pine-Richland, 5-0
The Lady Tigers Tennis Team claimed its eighth win in a row, topping the Pine-Richland Rams on Monday afternoon, 5-0.  In another sterling performance, the Lady Tigers swept through their opponent for a section victory.
At #1 singles, Anna Li collected a 6-0, 6-1, win over Alice Qian and Eugenia Lee notched a 6-2, 6-1 triumph over Angela Consiglio, 6-2, 6-1, at #2 singles.  Tristyn Maalouf edged Arushi Bandi by scores of 6-3, 7-6 (7-2).
Tina Li and Catherine Liu posted a 6-1, 6-2, win at #1 doubles over Sarah Krause and Pooga Humar.  Sydney Boyd and Catherine Zhang rounded out doubles play with a 6-3, 6-3, win against Maddie Kurlandski and Young Kim.
North Allegheny now sits at 8-0 overall and 5-0 in section play. North Allegheny will host the Section Singles Tournament on Wednesday and Thursday of this week with 2:00 pm start times each day. The entire Lady Tigers squad will return to action on Friday at Sewickley Academy at 4:15 pm.
Match Summary

NORTH ALLEGHENY - 5
PINE-RICHLAND - 0
SINGLES
#1
Anna Li (NA) def. Alice Qian (PR)
6-0, 6-1
#2
Eugenia Lee (NA) def. Angela Consiglio (PR)
6-2, 6-1
#3
Tristyn Maalouf (NA) def. Arusha Bandi (PR)
6-3, 7-6 (7-2)
DOUBLES
#1
Catherine Liu/Tina Li (NA) def. Sarah Krause/Pooga Humar (PR)
6-1, 6-2
#2
Sydney Boyd/Catherine Zhang (NA) vs. Maddie Kurlandski/Young Kim (PR)
6-3, 6-3