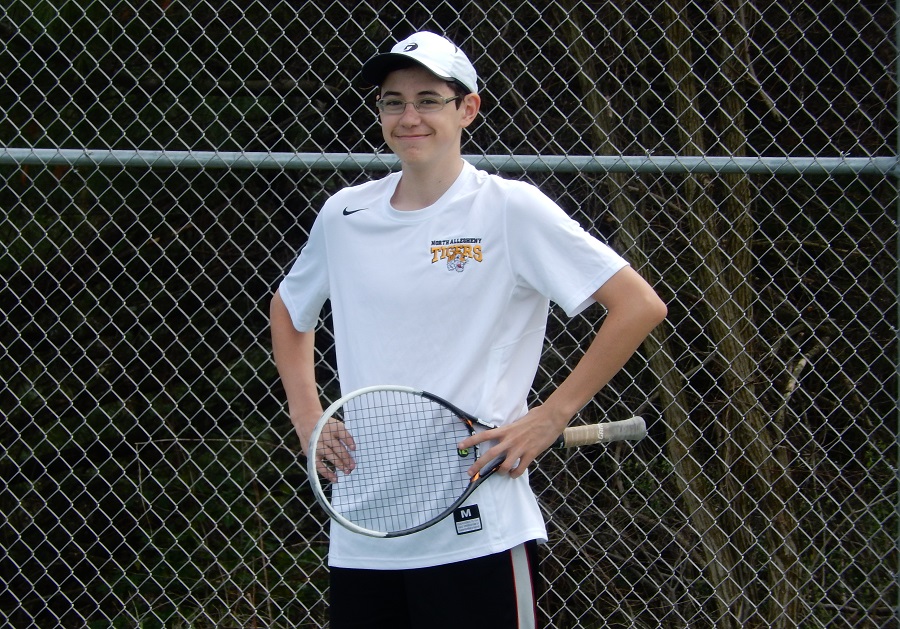 NA Tennis Sends Two Duos to Section 2 Semis, One To Championship
On a picture perfect Monday afternoon on the NASH courts, the Tigers Tennis squad used their home court advantage to advance two teams to the semi-finals of the Section 2 Doubles Tournament. Junior Jared Isaacs and freshman Richard Hofmann, the overall number one seed, defeated teams from Butler and North Hills to advance to the semifinal round.  Meanwhile, the 5th seeded duo of sophomores Andrew Chuirazzi and Ivan Voinov swept past teams from Moon and Mars. The exciting news was tempered by the fact that both teams were in the same bracket and had to play each other in the semi-final match, where Issacs and Hofmann then defeated Chuirazzi and Voinov.
Both teams will continue play Tuesday afternoon at the NASH courts starting at 2 PM.  Isaacs and Hofmann will compete with the number two seeds from Pine-Richland for the championship match while Chuirazzi and Voinov will deal with Moon's number three seed in the consolation match.  Both Tigers teams are assured of a WPIAL Championship berth at next week's competition.
North Allegheny Summary –AAA Section 2 Doubles Championship –Day 1 (4-18-16)
 Round One
#1 Jared Isaacs/Richard Hofmann (NA) def. #16 Nate Errington/Matt McMaster (Butler) 10-0
#5 Andrew Chuirazzi/Ivan Voinov (NA) def. #12 N. Maheshwari/A. Shetty (Moon) 10-1
Quarterfinal Round
#1 Jared Isaacs/Richard Hofmann (NA) def. #8 Martin Varys/Craig Deng (North Hills) 10-2
#5 Andrew Chuirazzi/Ivan Voinov (NA) def. #4 Aaron Gruber/Alex Gruber (Mars) 10-6
Semi-Final Round
#1 Jared Isaacs/Richard Hofmann (NA) def. #5 Andrew Chuirazzi/Ivan Voinov (NA) 6-1, 6-3