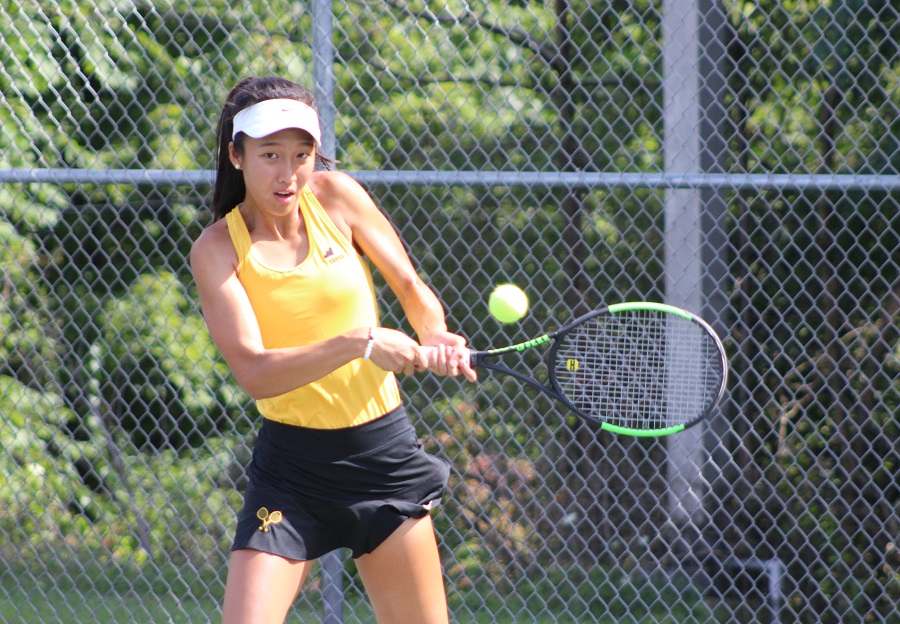 NA Tennis Takes Down Mt. Lebanon, 4-1
The reigning PIAA Class AAA champions posted a 4-1 non-section victory over the Mt. Lebanon Blue Devils at the NASH courts on Thursday afternoon. The contest against Mt. Lebanon was a rematch of last year's PIAA semifinals. The Tigers claimed a 5-0 win over the Blue Devils a season ago en route to the state crown.
In Thursday's triumph, the Tigers received singles wins from Ashley Huang and Jenny Zhu. Huang swept Lauren Masteller 6-0, 6-2. Zhu collected a 6-2, 6-0, win over Anna Zak.
Both of North Allegheny's doubles teams picked up victories. The No. 1 doubles tandem of Claire Shao and Riya Yadav earned a 6-1, 6-1, win over Adele Cramer and Bridget Zimmerman. At No. 2 doubles, it was Shria Moturi and Ashley Chung who posted a 6-1, 7-5, win against Alexandra Renton and Megan Vujevich.
North Allegheny is 1-0-1 following the win over Mt. Lebanon. The Lady Tigers will host the Latrobe Wildcats on Friday at 3:30 p.m.
Girls Tennis Summary vs. Mt. Lebanon, 8-23-18
Match Summary

NORTH ALLEGHENY - 4
MT. LEBANON - 1
SINGLES
#1
Ashley Huang (NA) def. Lauren Masteller (ML)
6-0, 6-2
#2
Camilla Buch (ML) def. Ella Sinciline (NA)
6-4, 6-4
#3
Jenny Zhu (NA) def. Anna Zak (ML)
6-2, 6-0
DOUBLES
#1
Claire Shao/Riya Yadav (NA) def. Adele Cramer/Bridget Zimmerman (ML)
6-1, 6-1
#2
Shria Moturi/Ashley Chung (NA) def. Alexandra Renton/Megan Vujevich (ML)
6-1, 7-5