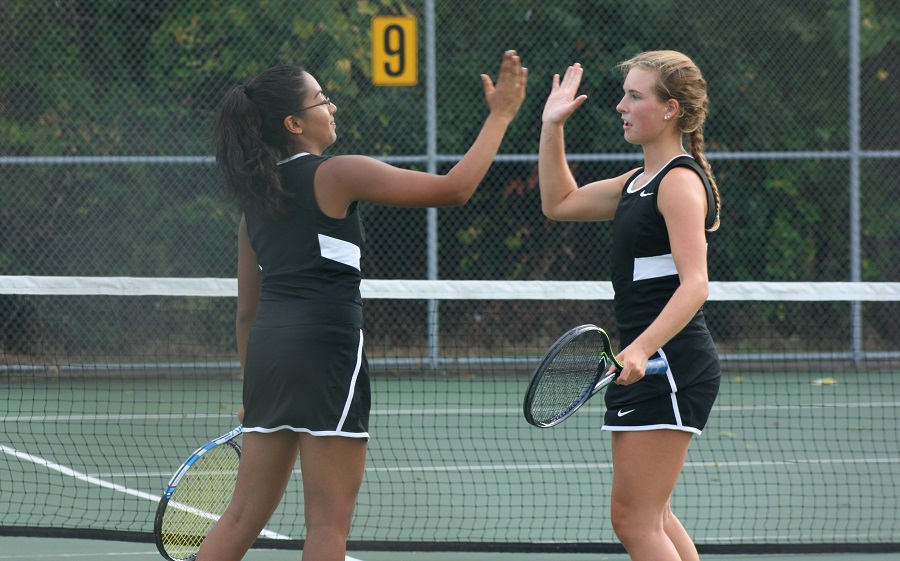 NA Tennis Tops Pine-Richland, 4-1
North Allegheny added another victory to the win column on Thursday afternoon with a 4-1 section triumph over the Pine-Richland Rams. In singles play, Anna Li defeated Arushi Bandi, 6-3, 6-1, and Ashley Huang picked up a win by a 6-4, 6-0, decision over Claire Casanova. Pine-Richland claimed its only win at No. 3 singles thank Alice Qian who topped NA's Vivian Shao, 6-0, 6-1.
In doubles action, Rebekah Rest and Jenna Kolano took down the duo of Alyssa Sarver and Young Kim. At No. 2 doubles, Riya Yadav and Katherine Ambrose defeated Sara Schriber and Rita Lakhssassi, 6-2, 6-2.
With the win, North Allegheny improves to 13-0 and 6-0 in the section. The Lady Tigers host Peters Township on Friday afternoon.
Girls Tennis Summary vs. Pine-Richland, 9-15-16
Match Summary

NORTH ALLEGHENY - 4
PINE-RICHLAND - 1
SINGLES
#1
Anna Li (NA) def. Arushi Bandi (PR)
6-3, 6-1
#2
Ashley Huang (NA) def. Claire Casanova (PR)
6-4, 6-0
#3
Alice Qian (PR) def. Vivian Shao (NA)
6-0, 6-1
DOUBLES
#1
Rebekah Rest/Jenna Kolano (NA) def. Alyssa Sarver/Young Kim (PR)
6-2, 6-1
#2
Riya Yadav/Katherine Ambrose (NA) def. Sara Schriber/Rita Lakhhssasi (PR)
6-2, 6-2