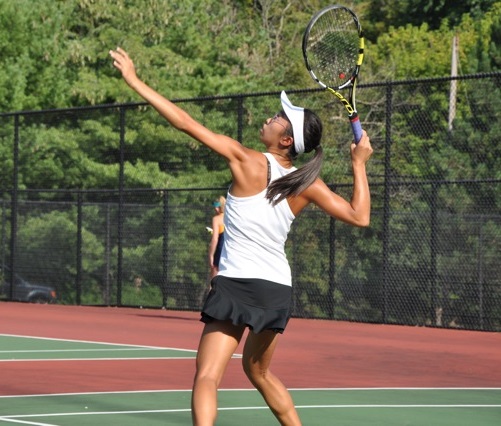 NA Tennis Triumphs Over Fox Chapel, 4-1
The North Allegheny Girls' Tennis Team earned a 4-1 non-section win over the Fox Chapel Foxes on Friday afternoon. A day after losing to Anna Li in the consolation match at the WPIAL Singles Tournament, Fox Chapel's Laurel Shymansky earned a measure of revenge with a 6-3, 7-5, win over the Tigers sophomore.  It was the only loss for the Lady Tigers, however, as NA rolled to the win. Tina Li topped Amanda Nord at #2 singles, 6-3, 6-3.  At #3 singles, Eugenia Lee collected a 6-0, 6-1, triumph over Nicole Fellert.
In doubles play, Tristyn Maalouf and Catherine Liu defeated Molly Weise and Christine Burmedez, 6-3, 6-1. At #2 doubles, Sydney Boyd and Catherine Zhang toppled Moira McCormick and Anja Schempf, 6-0, 6-1.
North Allegheny improves to 12-0 overall with the victory. The Lady Tigers return to the court on Monday afternoon with a section matchup at Seneca Valley.  Start time is slated for 3:30 pm.
Match Summary

NORTH ALLEGHENY - 4
FOX CHAPEL - 1
SINGLES
#1
Anna Li (NA) def. Laurel Shymansky (FC)
6-3, 7-5
#2
Tina Li (NA) def. Amanda Nord (FC)
6-3, 6-3
#3
Eugenia Lee (NA) def. Nicole Fellert (FC)
6-0, 6-1
DOUBLES
#1
Catherine Liu/Tristyn Maalouf (NA) def. Molly Weise/Christine Bermudez (FC)
6-3, 6-1
#2
Sydney Boyd/Catherine Zhang (NA) def. Moira McCormick/Anja Schempf (FC)
6-0, 6-1