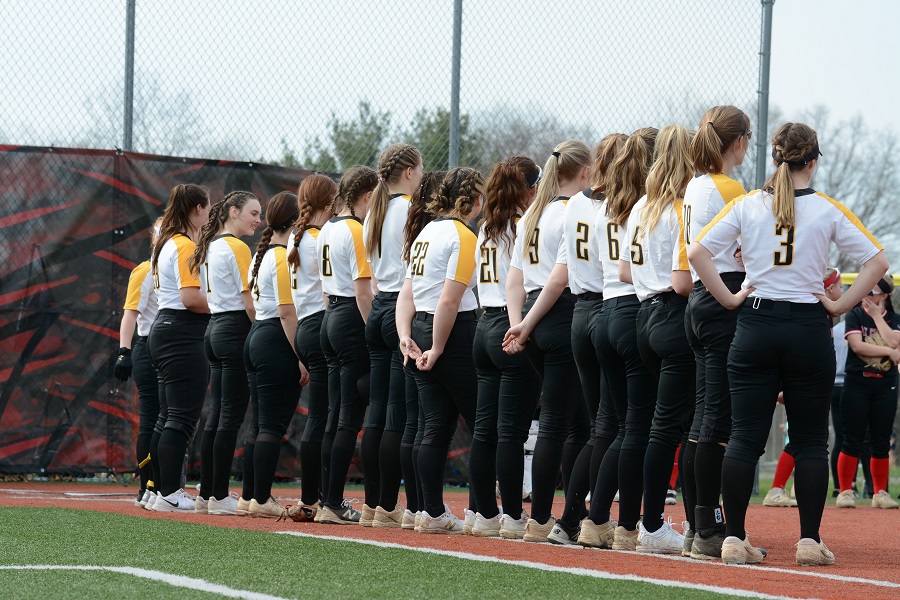 NA Tops Second-Ranked Bethel Park, 11-2
The fifth-ranked North Allegheny Tigers won their fifth straight game on Tuesday afternoon over the second-ranked Bethel Park Hawks, earning an 11-2 victory on the road.
NA's offense attacked early, scoring five runs in the first inning. Senior Alaina Whipkey led off with a single, followed by junior Meghan McDonough who beat out a well-placed drag bunt. An error on a hard-hit ball by freshman Sammy Plotsko loaded the bases with no outs. Juniors Annalyn Isaacs and Mayson Brokos each singled and earned an RBI apiece. Junior Reagan Sheets and sophomore Caitlin Logan also earned RBIs in the inning.
The offense continued into the second inning when sophomore Carlyn Vaupel and Whipkey each singled. Plotsko earned her second RBI of the game, scoring Vaupel from second base. Then, Brokos doubled, scoring two for an 8-0 lead. Brokos finished the day 2 for 4 with three RBIs.
Although a solo home run by Sandra Soltes in the bottom of the second inning put Bethel Park on the board, the Tigers answered back in the third when senior Reagan Deitrick doubled. A single by Whipkey moved the runner, allowing McDonough to drive in the run on a sacrifice fly and the Tigers led, 9-1.
The Tigers' offense produced one final time in the seventh when freshman McKenna Rowlands made it to first on an error. Vaupel doubled, leaving runners at second and third. Whipkey cracked another single, scoring both runners for an 11-1 advantage. Whipkey finished the day 3 for 4.
Plotsko took the win in the circle for the Tigers, holding Bethel Park to five hits. She threw seven complete innings and struck out four. Bethel Park managed one last run in the bottom of the seventh to bring the final score to 11-2, North Allegheny.
The Tigers will travel to Norwin tomorrow for their next in-section competition. The game is scheduled to begin at 4:00pm.
Box Score - Softball vs. Bethel Park - 04/05/2022
| Score by Innings | 1 | 2 | 3 | 4 | 5 | 6 | 7 | R | H | E |
| --- | --- | --- | --- | --- | --- | --- | --- | --- | --- | --- |
| North Allegheny | 5 | 3 | 1 | 0 | 0 | 0 | 2 | 11 | 13 | 0 |
| Bethel Park | 0 | 1 | 0 | 0 | 0 | 0 | 1 | 2 | 5 | 5 |
WP - Sammy Plotsko (1-0) LP - Makenzie Wade