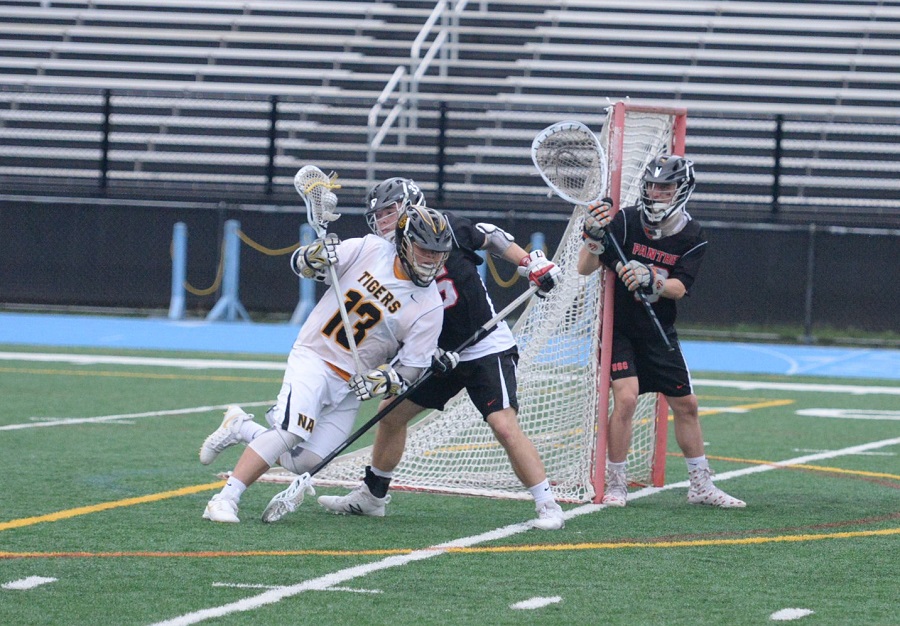 NA Tops USC In WPIAL Quarterfinals, 7-5
By Jared Barton
A slow start did not keep the Tigers from a second half comeback as North Allegheny beat Upper St. Clair, 7-5, at Seneca Valley in the quarterfinals of the WPIAL Class 3A Boys Lacrosse Playoffs.
In the first quarter, freshman goalie Aiden Miller made a few critical saves to keep the game scoreless. After a few long possessions, USC attacker Thomas Boyd would break the tie with a goal around the seven-minute mark.
The scoring started to open up in the second quarter as Panther midfielder James Wilkinson added to the lead with 10:08 remaining in the half. The Tigers would get on the board via midfielder Ben Maenza who scored with 3:48 left in the quarter cutting the USC lead to 2-1. Two minutes later, the Panthers added another score from David Strain, but the Tigers would have the last laugh as senior Wes Powell scored a wrap around, one-handed goal with 1:05 left in the second.
The Powell goal started a run of six consecutive goals for North Allegheny. With less than 10 minutes left in the third quarter, USC midfielder Grant Evans was called for a stick to the head on NA junior Antonio O'Barto. The penalty was unreleasable for two minutes and the Tigers took full advantage. Kyler Byerly and Matt Osten scored on the man up opportunity, while Isaiah Davis and Maenza scored to round out the quarter, extending the NA lead to 6-3.
In the fourth quarter, Powell scored his second of the night with seven minutes left and the Tigers led 7-3. The Tigers shut out the Panthers with strong defense for nearly a 20-minute stretch in the second half. A late push by Upper St. Clair trimmed the lead, as Grant Evans scored on a man up opportunity and Logan Tobias netted a goal with 2:51 left to make the score 7-5.
Senior Wes Powell earned Wright Automotive Player of the Game Honors for his performance.
With the loss, Upper St. Clair ends the season with a 10-7 overall record. North Allegheny advances to the Class 3A WPIAL Semi-Final game where the Tigers will face the Pine-Richland Rams at a time and place to be determined. Pine-Richland defeated Bethel Park, 13-2, Wednesday night at Seneca Valley.