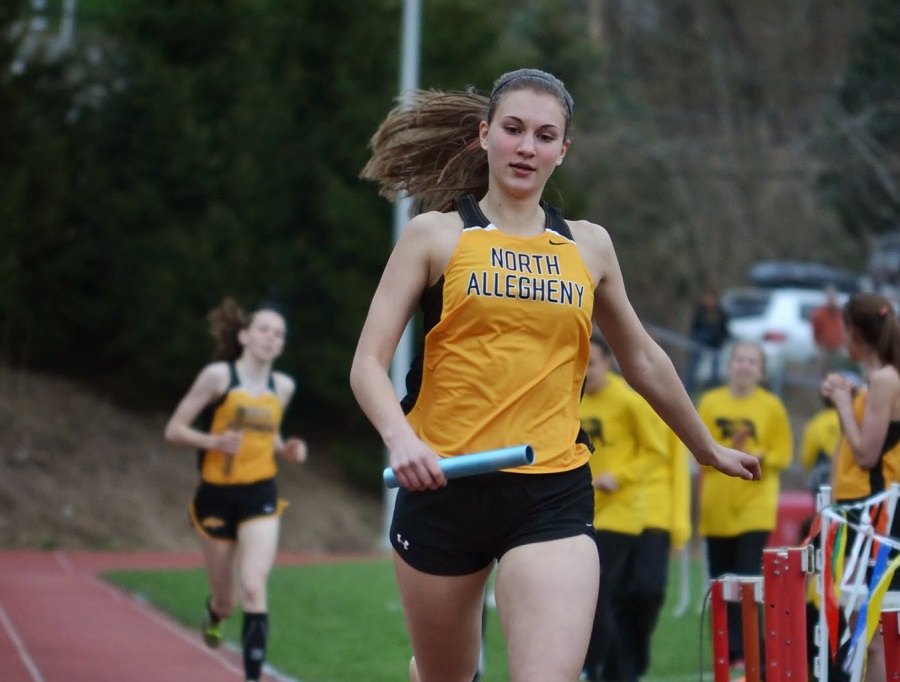 NA Track Clinches Section Titles
Despite the cool temperature, strong winds and rain, the North Allegheny Track Teams both clinched sectional titles as they defeated Fox Chapel and Shaler on Tuesday.  Both teams remained unbeaten in sectional competition this season.
The girls were able to win every event against Fox Chapel and won all but two events against Shaler.  Hurdlers Giovanna Cottone and Josie Landis won the High Hurdle and Intermediate Hurdle races, respectively.  Sprinters Makenna Owens dashed her way to first place honors in the 100m Dash while Anna Katsas won the 200m Dash.  Madeline Davison ran her way to first place in the 800m, 1600m and 3200m runs.  Seniors Maria Rojas earned first place in the Discus Throw while teammate Emma Harvey won the Shot Put.  Jolene Yon outjumped her opponents in both the Triple Jump and High Jump.
The Boys also won every event against Shaler and all but two events against Fox Chapel.  Freshman Ayden Owens hurdled his way to two victories in the High Hurdle and Intermediate Hurdle races.  Ijhad Bonner won the 100m Dash and was a member of the winning 4x100m Relay.  Adam Maloney not only sprinted his way to a 400m Dash victory, he also managed to win the Long Jump and Triple Jump events.  The senior wrecking crew of Scott Seel (800m), Matt McGoey (1600m) and Hunter Wharrey (3200m) dominated the distance events against some fierce competition.  In the Javelin, Andrew Manz threw almost more than 20 feet over his nearest competitor.  Throwers Will Thompson and Ryan Muskal were victorious in the Discus and Shot Put.