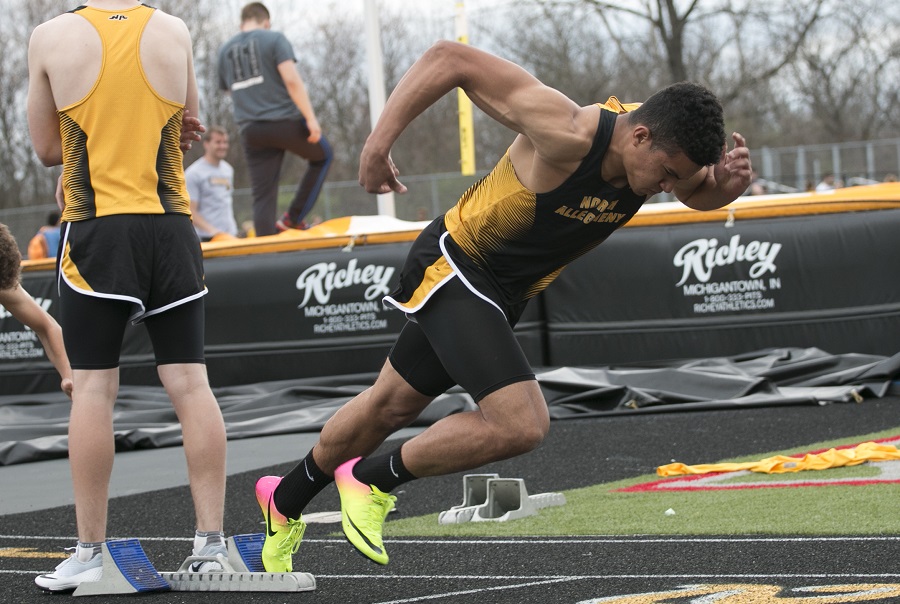 NA Track & Field Splits Meet With Butler
The North Allegheny boys' team powered its way to a victory over the Butler Tornadoes, 91-59.  Ayden Owens lit up the track with his speed as he raced to four victories in both hurdles races and the 100m and 200m dashes.  Josh Sanders had three victories by outjumping his opponents in the Long Jump & Triple Jump, and being a leg of the 4x100m Relay.  Christian Parreaguirre secured a Tiger win in the 400m Dash as did Daniel McGoey in the 3200m Run.  Other individual winning performances came from Jake Fritsch in the Javelin and Jono Pelusi in the pole vault. 
The ladies of Butler were able to capture a small lead on the track and then extended it in the field events as they handed the Lady Tigers' their first loss of the season, 90-60.  Three Tigers were able to post double wins in the meet: Melina Owens in the both hurdle races,   Clara Savchik in the 1600m and 3200m runs, and Casey Burton in the 100m Dash and Long Jump.  Casey was also part of the winning 4x100m Relay with teammates Rachel Giger, Makena Owens, and Sophia Spano.  Madeline Mianzo secured her first win of the season in the Triple Jump. 
The Tigers will be traveling to Pine Richland next Wednesday for their next sectional showdown against the Rams and the North Hills Indians.