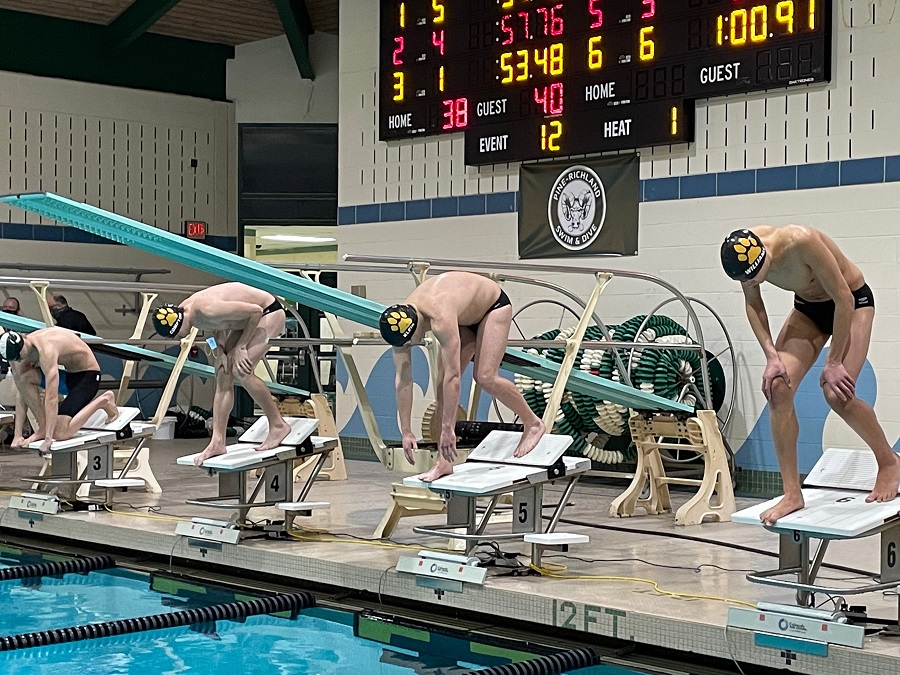 NA Triumphant Over Pine-Richland
The North Allegheny Tigers Swimming and Diving Team defeated the Pine-Richland Rams in their sectional meet. The Lady Tigers won by the score of 104-77, while the NA Boys got a 107-79 win.
The Lady Tigers started off the night winning the 200 Medley Relay, with the team of Molly Smyers, Oliva Kisow, Natalie Sens and Quinn Frost and then sweeping the 200 IM with Ella Ogden touching first.  Lexi Sundgren got the win for the 200 Free, Olivia Kisow touched first for the 500 Free, Molly Smyers for the 100 Butterfly, Kara Mihm owned the 100 Back and Haley Miller won the 100 Breaststroke.  Natalie Sens also touched first in the 100 Free. For the Freestyle Relays, the 200 was won by the team of Sundgren, Frost, Sens and Smyers, while the team of Frost, Sundgren, Isabella Deitz and Smyers secured the victory for the 400.
The boys team got their first win in the 200 Free with Matthew Turzai touching first. For the other individual events, Tim Compton owned the 100 Free, Ben Gavran took the 500 Free and Zachary Jubeck was victorious in the 100 Backstroke.   The boys team dominated in the Freestyle Relays, the 200 was won by the team of Turzai, William Gao, Wyatt Courville and Jacob McCarran, while the team of Courville, David Shi, Gavran and Compton took the 400.
The Diving Team enjoyed a strong meet.  For the girls, Jordan Atkins, Olivia Shenk and Jordan Richards all celebrated new personal bests., Atkins got 3rd, Shenk 4th and Richards finished fifth. The boys took the top two spots, with Will Schenk securing first place and Lucas Rodgers taking second. Alex Palermo also had a strong meet finishing 4th.
Next up is an away meet against Bethel Park on Tuesday, February 2nd.