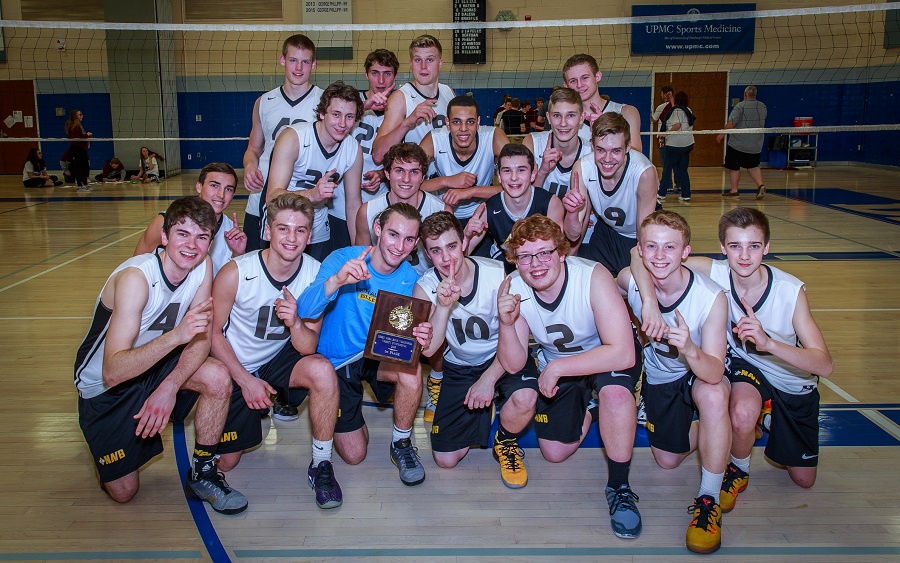 NA Volleyballers Win Derry Invitational Championship
Continuing their early season roll, the North Allegheny Tigers claimed the top prize at the Derry Invitational on Saturday. The Tigers rolled through pool play with an unblemished mark and coasted their way to the invitational championship with a 25-22 victory over Altoona.
North Allegheny opened the tournament playoffs with a 25-13 pasting of Penn Hills and defeated Shaler in the quarterfinals, 25-18. The Tigers, the No. 2-ranked team in the state, earned a 25-20 win over Norwin, the sixth-ranked team in Pennsylvania, in the semifinals. North Allegheny capped the day with the 25-22 triumph over Altoona in the tournament title game.
Helping lead the way for North Allegheny was Canyon Tuman who notched a team-high 39 kills for the tournament. Luke Visgitis and Eric Visgitis followed with 25 and 23 kills, respectively. Luke Visgitis stacked the net with a team-best 10 blocks. Setter M.J. Barton set up the offense with 117 assists and chipped in on defense with 17 digs. Libero Danny Lenovitz paced the defense with 47 digs.
North Allegheny hopes to continue its strong start to the season with a home contest on Tuesday night against the Butler Golden Tornado. The match will be broadcast live via the internet on the North Allegheny Sports Network.
Pool F
NA defeated Deer Lakes 2-0 (25-18; 25-17)
NA defeated OLSH 2-0 (25-11; 25-9)
Pool V
NA defeated Latrobe 2-0 (25-20; 27-26)
NA defeated Fox Chapel 2-0 (25-5; 25-21)
Playoffs
Prelims, NA defeated Penn Hills 25-13
Quarters, NA defeated Shaler 25-18
Semis, NA defeated Norwin 25-20
Final, NA defeated Altoona 25-22