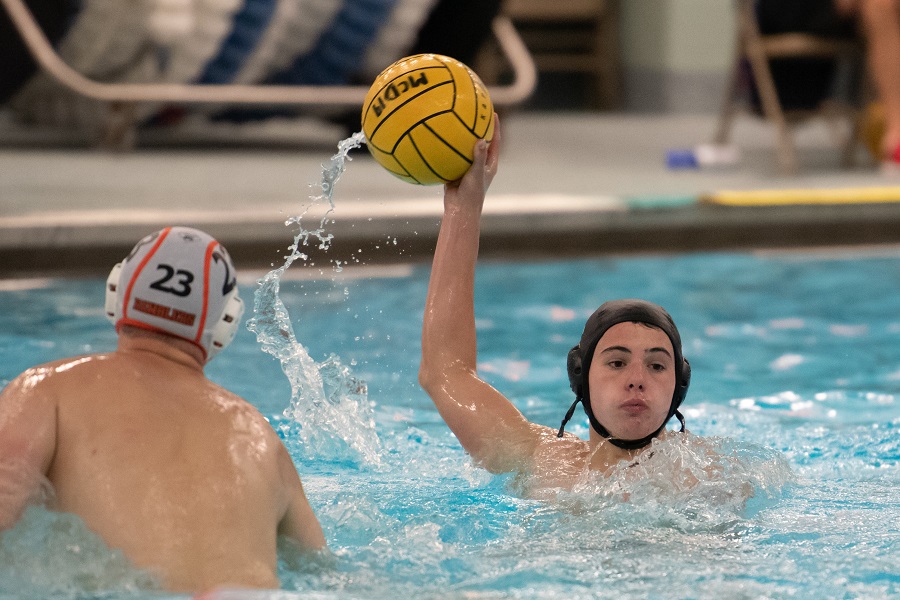 NA Water Polo Opens Season At McDowell Cup
The North Allegheny water polo team opened the 2019 season on Saturday in Erie at the McDowell Cup Tournament. Both NA teams came away with a 1-2 performance in their three games at the tournament.
It was a strong start for the Lady Tigers, who opened the event with an 8-7 victory over Villa Maria. NA built a 4-1 lead in the first quarter and fended off a Villa Maria rally in the second half. Senior captain Sarah Koehler led the offense with a hat trick, followed by junior Emma Halle with two goals. Sophomores Anna Kegel and Hanna Ziegler, and freshman Rebecca Melanson also netted goals in the win. Junior goalie Marissa Dorman earned the win in net with 10 saves.
In game two, it was the Tigers who trailed at the half, 7-2, but stormed back with a strong second half. However, the NA rally fell just short in an 11-9 defeat to Upper Arlington. Koehler was the catalyst in the comeback bid with eight of NA's nine goals. The other marker belonged to Melanson.
In the finale, the NA girls' team dropped an 11-5 decision to host McDowell. Koehler paced the offense with another hat trick, while Ziegler and Halle chipped in with one goal each.
The North Allegheny boys' squad had a tough beginning at the McDowell Cup with a 14-6 loss to Cathedral Prep and a 12-8 loss to Upper Arlington. Against Prep, the Tigers were led by freshman Keller Sens and Asher Jones with two goals apiece. In the loss to Upper Arlington, junior captain David Lomakin paced the attack with a hat trick, joined by senior captain Ben Phillips and freshman Sean McClellan who netted two goals each.
The Tigers ended the tournament on a high note, earning a dominant 11-5 victory over McDowell. NA jumped out to a 6-2 lead by halftime and put the game away by outscoring McDowell 4-0 in the fourth period. Lomakin sparked the NA offense with a five-goal performance. Sens, Phillips and Jones all scored two goals apiece in a rout of the host Trojans. Freshman Eliot Maravich and sophomore Ben Pizov split time in net to help NA to the win. Maravich made five saves and Pizov stopped three shots.
North Allegheny looks to build on a solid start to the season with a visit to Cumberland Valley this weekend at the Screamin' Eagle Tournament.
(Photo by Tony Melanson)