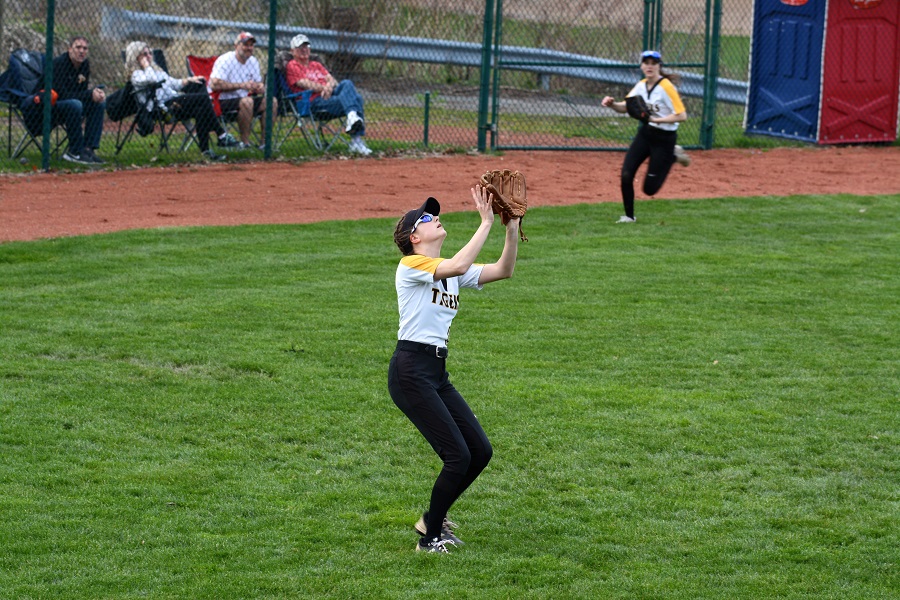 NA Winning Streak Snapped At Mt. Lebanon
North Allegheny was dealt its first loss of the season on Tuesday at Mt. Lebanon, 10-4, in non-section play. The Blue Devils took an early lead, scoring six runs on eight hits in the bottom of the first inning.
The Tigers' offense attempted to answer back, tallying six hits on the day. Junior Mayson Brokos doubled at the start of the second inning before some heads-up baserunning allowed her to score from second on a fly ball caught in foul territory.
In the fifth inning, sophomore Carlyn Vaupel hit a triple to the center field fence. A well-placed drag bunt by junior Meghan McDonough scored Vaupel, earning the Tigers another run. This duo repeated the sequence of events when Vaupel singled in the seventh and was again driven in by McDonough. Both Vaupel and McDonough went 2 for 3 for the day.
Sophomore Anne Melle started for the Tigers in the circle, pitching one complete inning. Freshman Sammy Plotsko took over in the second inning, holding the Devils to six hits and striking out four.
Following the non-section loss, North Allegheny falls to 5-1 on the season. The Tigers will host section opponent Pine-Richland tomorrow. The game is scheduled to begin at 6:00pm and will be broadcast live by the North Allegheny Sports Network.
Box Score - Softball vs. Mt. Lebanon - 04/12/2022
| Score by Innings | 1 | 2 | 3 | 4 | 5 | 6 | 7 | R | H | E |
| --- | --- | --- | --- | --- | --- | --- | --- | --- | --- | --- |
| North Allegheny | 0 | 1 | 0 | 0 | 1 | 0 | 2 | 4 | 6 | 0 |
| Mt. Lebanon | 6 | 1 | 0 | 1 | 2 | 0 | X | 10 | 14 | 2 |
WP - Gabby Boone LP - Anne Melle (4-1)