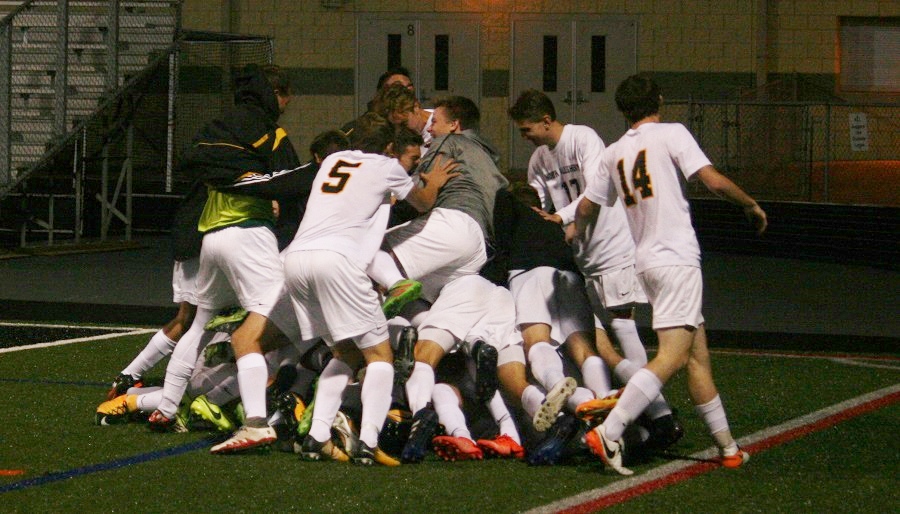 NA Wins Joust With Knights In Overtime, 4-3
The reigning WPIAL champions recovered from a slow start to force overtime and pulled out an exciting win in overtime over the Norwin Knights, 4-3, on Tuesday night. Senior Cam Yurick scored the game-winning goal in the extra session to propel NA to victory.
In the first half, Norwin forward Carter Breen scored two goals to give the Knights a 2-0 lead. If not for two tremendous saves by NA goalie Grant Glorioso it could have been much worse for the Tigers going into halftime.  Norwin had a 4-1 shot on goal advantage at intermission, while the Tigers enjoyed a 5-3 corner advantage but still no goals in three games to show for it.
The NA boys came to play in the second half as Coach Bobby Vosmaer's squad had a golden opportunity at 28:45 on a cross from Luke Stephen to Yurick in front of the net but his header was pushed high by the Knights goalie.  The Tigers kept their relentless pressure and at 19:42 were awarded a penalty kick thanks to a Norwin handball and Josh Luchini made it 2-1.  At 12:14, Sean Atwater found Luchini down the right side and from a tough angle beat the Knight goalie for a 2-2 tie.
The momentum continued with shots from Luchini and Nick Williams, but at 5:22 Norwin midfielder Zach Ullum scored off a corner on what appeared to be a backbreaking goal that gave the Knights a 3-2 advantage.  With NA attacking the net, Norwin again had a hand ball in the box and the ensuing penalty kick was converted by Luchini for his third goal for the game and seventh of the young season.  Steady defensive play by Issac Ciocca and Stanley Wilson in the second half led to the game going into overtime.  NA had a 6-1 shot advantage in the half and corners were even at 2-2.
The Tigers only needed one shot in overtime to end the game and on a deftly made pass by Atwater, Yurick slammed home the winner at 8:19 for a 4-3 win and 3-0 record for the season.
North Allegheny travels to Bethel Park this Thursday in another challenging out of section contest at 7:30pm.