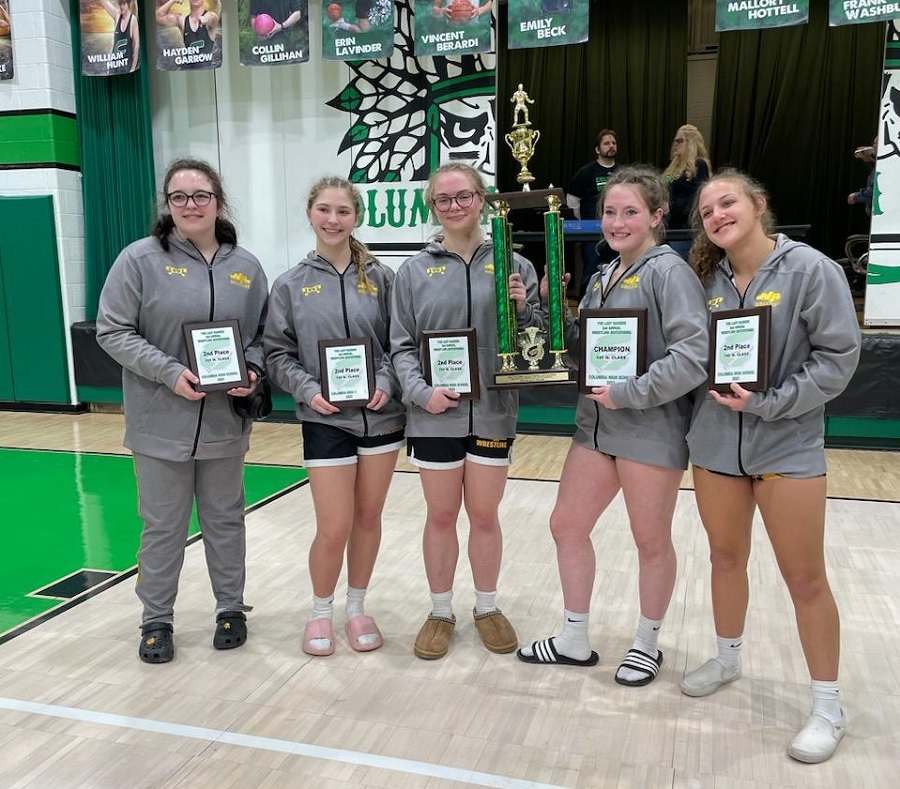 NA Wins Lady Raiders Invitational
The North Allegheny girls' wrestling team traveled to Columbia High School just outside of Cleveland to wrestle in the program's first ever tournament outside of Pennsylvania. The Lady Tigers were the only team outside of Ohio. North Allegheny sent 12 wrestlers to the 34-team Lady Raiders Invitational and captured the team title, outpacing Mentor 147 to 121. Each member of the team secured at least one win. The Lady Tigers were led by senior Callie Rautenbach who captured the 145 pound title.
Rautenbach started off the day going 2-1 in pool play. Her loss came to Autumn Szucs (ranked #5 in Ohio) of Parma. In the semifinals, Rautenbach used a third period takedown to beat #9 state ranked Jordan Palmer of Hoover. That set up a rematch with Szucs in the finals. Rautenbach set the tone with a takedown and three back points in the first period. Rautenbach continued to dominate and claim the title with a 10-4 victory.
Freshman Sophia Folks (130), sophomore Kaylee Dean (235), and juniors Audrey Morrison (140) and Leyna Rumpler (155) all finished as runners-up.
Folks went 4-0 with four falls in pool play to advance her to the first place match. In the final round of pool play, Folks pinned #20 state ranked Kirby Herrera of Columbia. In the finals, Folks faced returning Ohio State Champion and #1 state ranked Jaydyn McKinney of Manchester. Folks led 4-2 before McKinney locked up a headlock and secured the fall.
Morrison went 3-0 with three falls in pool play. Morrison won by fall over Mentor's Maddie Womack in the semifinals. In the finals Morrison lost by fall to #8 state ranked Madeline Meyers of Start.
Rumpler also went 3-0 in pool play with three falls. In the semifinals Rumpler faced off against Columbia's Cailyn Demagall, who was ranked #7 in the state. Rumpler picked up a third period fall to advance to the finals against #4 state ranked Isabella Adams. Adams also placed fourth at last year's Ohio State Championships. After a back-and-forth match, Adams was able to set up a late third period throw and pick up the fall for the win.
Dean started off with two falls in pool play to advance to the championship bracket. Dean then picked up falls in the quarterfinals and semifinals to advance to the championship match. She unfortunately lost by fall to Dakota McCracken of United Local, who is ranked #3 in Ohio and also took third at the the Ohio State Championships last year.
Also competing for the Lady Tigers were:
115 Bella Cuomo 12th place
130 Ava Anthony 9th place
136 Brenna Collery 8th place
140 Ava Frailey 7th place
145 Maya Scott 7th place
235 Amya Sanford 8th place
235 Brooke Radford 10th place
Team Score (Top 10 of 34)
1. North Allegheny 147.0
2. Mentor 121.0
3. Luth. West 111.0
4. United 108.0
5. Vermilion 96.0
6. Columbia 94.0
7. Avon Lake 87.0
8. Brush 76.0
8. Start 76.0
10. Parma 67.0
Brackets can be found here:
https://www.baumspage.com/wr/columbia/girls/2022/2023%20Brackets.htm