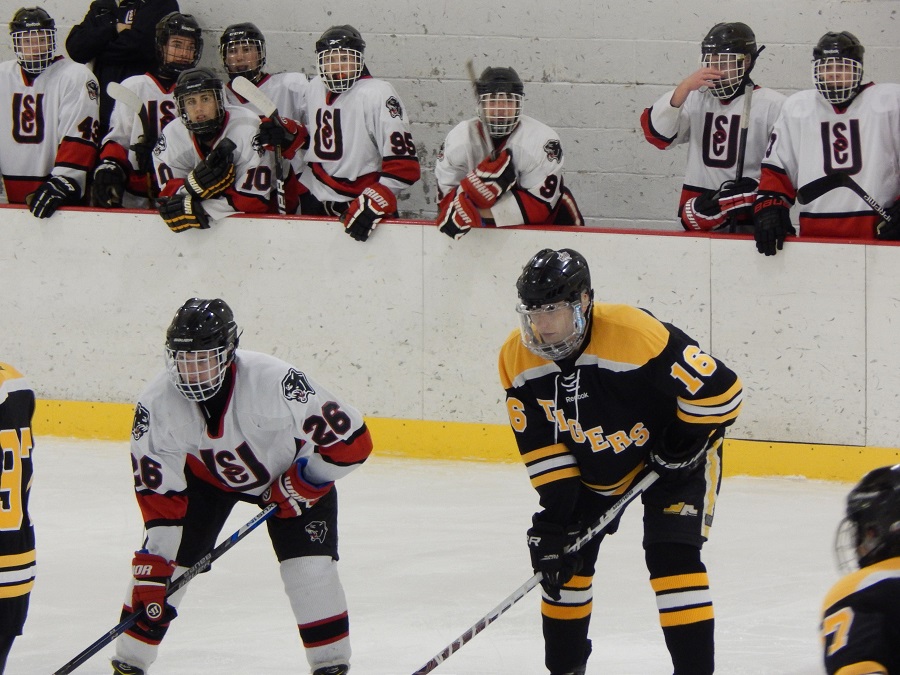 NA Wins Shootout With Upper St. Clair, 9-6
In a topsy-turvy game from the Baierl Ice Complex on Thursday night, the North Allegheny ice hockey team outlasted Upper St. Clair for a 9-6 victory. The Tigers broke a 6-6 tie in the third period with three unanswered goals to win their third in a row. Junior Erik Chidester scored two of the final three goals in a seven-point performance. Chidester totaled two goals and five assists for the black and gold.
North Allegheny built leads of 4-1 and 6-2 on the strength of a four-goal night from senior Joseph Zappia. Zappia's third goal of the evening put the Tigers ahead 5-2 at the 7:50 mark of the second period. Robert Randig added a goal with 3:47 remaining in the period to push the NA lead to 6-2.
Rather than go away quietly, Upper St. Clair made plenty of noise and scored the next four goals to tie the game at 6-6 with 11:44 remaining in the third period. Zappia netted the go-ahead goal with 7:50 to play to put the Tigers in front to stay. Chidester tallied the final two markers of the night to close out the victory.
North Allegheny vaults to 7-4-1 overall and climbs into a third-place tie with Central Catholic in the Class AAA standings. Upper St. Clair slips to 3-8-2 overall. The Tigers visit Butler on Monday night with an 8:30 faceoff.
Ice Hockey Summary vs. Upper St. Clair, 1-7-16
| GAME SUMMARY | | | | |
| --- | --- | --- | --- | --- |
| SCORE BY HALVES | 1 | 2 | 3 | FINAL |
| Upper St. Clair | 1 | 3 | 2 | 6 |
| North Allegheny | 4 | 2 | 3 | 9 |
Ice Hockey Individual Scoring vs. Upper St. Clair
| INDIVIDUAL STATS | | |
| --- | --- | --- |
| FIRST PERIOD | | |
| North Allegheny | Cameron Sunseri (Nathan Taylor) | 1:12 |
| North Allegheny | Joseph Zappia (Erik Chidester) | 7:57 |
| North Allegheny | John Parks (Chidester, Justin Kidd) | 13:59 |
| Upper St. Clair | Patrick Woomer (Adam Seeton) | 14:11 |
| North Allegheny | Zappia (Chidester, Tyler Duderstadt) - SH | 15:41 |
| SECOND PERIOD | | |
| Upper St. Clair | Jacob Bacik - PP | 3:49 |
| North Allegheny | Zappia (Chidester, Parks) | 7:50 |
| North Allegheny | Robert Randig (Matthew Heil) | 13:23 |
| Upper St. Clair | Zachary Lazur (Jake Reinheimer) | 14:05 |
| Upper St. Clair | Elliot Stevenson | 15:13 |
| THIRD PERIOD | | |
| Upper St. Clair | Matthew Finn (Reinheimer) | 1:32 |
| Upper St. Clair | Woomer (Jordan Rongaus) - PP | 5:16 |
| North Allegheny | Chidester (Kidd) | 11:25 |
| North Allegheny | Chidester (Parks) | 13:15 |