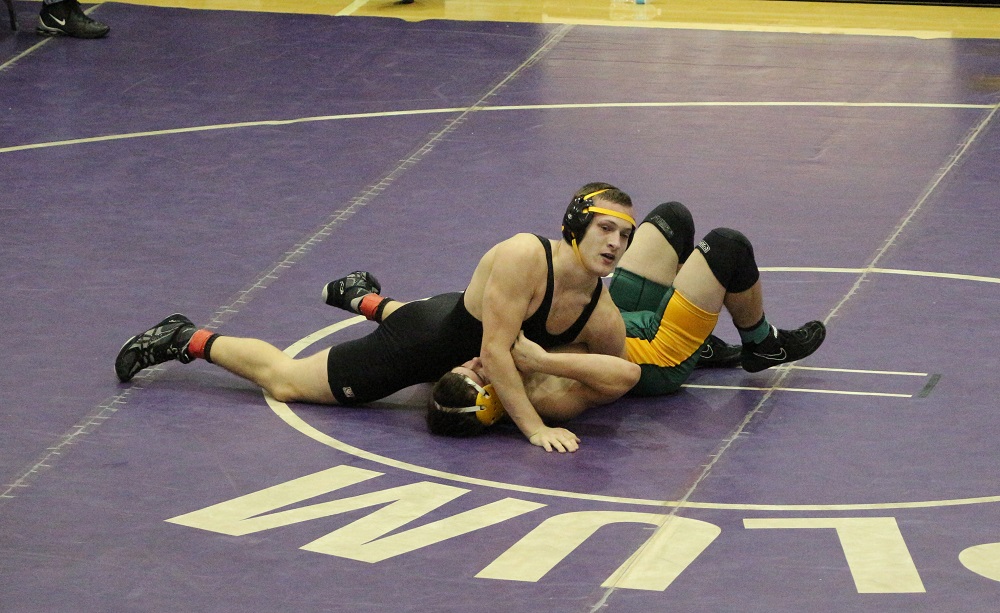 NA Wrestling Manhandles Mars, 65-3
By Jason Harding
The North Allegheny Tigers 5-0 (4-0) wrestling team hosted the Mars Planets 1-7 (0-3) in a Section 3B contest on Wednesday for senior night. The Tigers dominated the match 65-3.
The Tigers benefited from three forfeits and three falls in the match from Luke Landefeld, Dom Forys and Jake Woodley. Boosting the score for North Allegheny were three technical falls by Scott Stossel, A.J. Boeh and Jake Hinkson.
 ore bonus points were added via major decision by fellow Tigers Zach Stedeford, and Blynn Shideler. North Allegheny picked up decisions from Colton Byerly and Layne Skundrich.
The Planets were able to get on the scoreboard in the 285 pound weight class where Trey Turnblacer picked up a 5-2 decision over Mark Littlefield.
Next up the Tigers will host Mt Lebanon Saturday at 1 pm.
Wrestling Match Summary: NA vs. Mars
| Weight | Wrestlers | Score |
| --- | --- | --- |
| 145 | Richie Boeh (NA) wbf | |
| 152 | Blynn Shideler (NA) maj. dec. | 13-3 |
| 160 | Jake Woodley (NA) pinned Ryan Barnes (M) | 3:05 |
| 170 | David Tallman (NA) wbf | |
| 182 | Colton Byerly (NA) dec. Nathan Bair (M) | 10-3 |
| 195 | Zach Smith (NA) wbf | |
| 220 | Layne Skundrich (NA) dec. Alex Grosso (M) | 4-2 |
| 285 | Trey Turnblacer (M) dec. Mark Littlefield (NA) | 5-2 |
| 106 | Zack Stedeford (NA) maj. dec. Joey Scanlon | 10-2 |
| 113 | Luke Landefeld (NA) pinned Jesse Chen (M) | 0:48 |
| 120 | Scotty Stossel (NA) tech fall Jake Snyder (M) | 24-6 |
| 126 | Dom Forys (NA) pinned Max Hulak (M) | 3:01 |
| 132 | A.J. Boeh (NA) tech fall Silas Bender (M) | 18-3 |
| 138 | Jake Hinkson (NA) tech fall Justin Petrilena (M) | 17-2 |