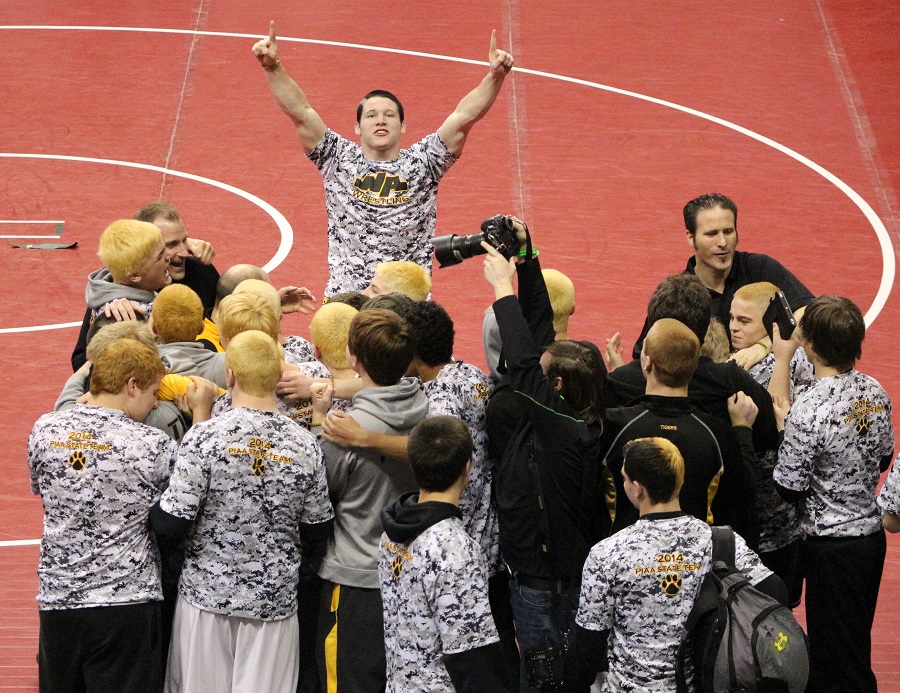 Nail-biters Continue At Hershey
The North Allegheny Wrestling Team continued to walk a fine line at the PIAA Class AAA Team Tournament on Friday. Following a one-point victory over Cumberland Valley in the opening round, the Tigers followed that up with two more matchups that were decided by the final bout. In the PIAA Quarterfinals, North Allegheny rallied past Parkland, 28-27. However, NA was knocked out of the winner's bracket by Latrobe, 34-29, in the PIAA Semifinals. Despite the loss, the Tigers will continue in the consolation bracket with a chance to claim team bronze.
Against Parkland to start the day, North Allegheny trailed 27-22 with two bouts left when Jake Hinkson claimed a 6-4 decision over Lee Todora at 132 pounds to pull NA within three, 27-25.  In the last bout, freshman A.J. Boeh nipped Rob Wetherhold by a 7-6 decision to advance NA to the PIAA Semifinals, 28-27.
In the semifinal meeting against fellow District 7 foe Latrobe, the Tigers again lived life on the edge. Falling behind 27-15 with five bouts to go, Scotty Stossel turned the momentum toward NA with a 9-3 decision over Joel Cawoski at 126 pounds to cut the score to 27-18. Wrestling up at 132, Dom Forys scored a tech fall win over Ethan Stas to trim the deficit to 27-23.  Hinkson followed that up by pinning Jake Willochell at 138 pounds to pull NA ahead, 29-27.  Latrobe jumped back in front, 30-29, with an 8-3 decision by Ethan Smith at 145, resting the outcome on the final bout. The Wildcats Jake Shaffer wasn't interested in a nail biting finish to his bout at 152 pounds as he claimed an 11-1 major decision to give Latrobe a 34-29 triumph.
Latrobe advances to the PIAA finals for a rematch of the WPIAL finals against the Franklin Regional Panthers. North Allegheny continues on in the consolation bracket and will await the winner between Cumberland Valley and Spring-Ford for a Round IV matchup at 11:00 am. If the Tigers advance, they'll wrestle for third place at 1:00 pm.  
Wrestling Match Summary: NA vs. Parkland
PIAA Quarterfinals
| Weight | Wrestlers | Score |
| --- | --- | --- |
| 145 | Nathan Christman (PL) dec. Drew Landefeld (NA) | 4-2 |
| 152 | Josh Ortman (PL) pinned Blynn Shideler (NA) | 3:53 |
| 160 | Jake Woodley (NA) dec. Billy Hoh (PL) | 8-1 |
| 170 | Colton Byerly (NA) dec. Frank Guida (PL) | 4-3 |
| 182 | Clay Byerly (NA) maj. dec. Marques Sturdivant (PL) | 10-0 |
| 195 | Zach Smith (NA) maj. dec. Rahmeir Thompson (PL) | 16-2 |
| 220 | Nezar Haddad (PL) pinned David Probert (NA) | 2:44 |
| 285 | Omar Haddad (PL) pinned Mark Littlefield (NA) | 1:55 |
| 106 | Andrew Mastrangelo (PL) dec. Zack Stedeford (NA) | 5-3 |
| 113 | Luke Landefeld (NA) dec. Jacob Lizak (PL) | 2-1 |
| 120 | Ethan Lizak (PL) maj. dec. Scotty Stossel (NA) | 12-0 |
| 126 | Dom Forys (NA) maj. dec. Brayson Haas (PL) | 20-9 |
| 132 | Jake Hinkson (NA) dec. Lee Todora (PL) | 6-4 |
| 138 | A.J. Boeh (NA) dec. Rob Wetherhold (PL) | 7-6 |
Wrestling Match Summary: NA vs. Latrobe
PIAA Semifinals
| Weight | Wrestlers | Score |
| --- | --- | --- |
| 160 | Dominic Scalise (L) tech fall Jake Woodley (NA) | 17-2 |
| 170 | Colton Byerly (NA) dec. Luke Shaffer (L) | 7-3 |
| 182 | Justin Short (L) pinned David Tallman (NA) | 1:38 |
| 195 | Zachary Zavatsky (L) maj. dec. Clay Byerly (NA) | 17-5 |
| 220 | Zach Smith (NA) dec. Travis Schmeling (L) | 8-3 |
| 285 | Tyler Mears (L) pinned David Probert (NA) | 1:00 |
| 106 | Zack Stedeford (NA) pinned Carson Palmer (L) | 1:16 |
| 113 | Luke Landefeld (NA) dec. Ethan McCoy (L) | 7-5 |
| 120 | Luke Pletcher (L) pinned Will Baierl (NA) | 1:06 |
| 126 | Scotty Stossel (NA) dec. Joel Cawoski (L) | 9-3 |
| 132 | Dom Forys (NA) tech fall Ethan Stas (L) | 25-10 |
| 138 | Jake Hinkson (NA) pinned Jake Willochell (L) | 2:43 |
| 145 | Ethan Smith (L) dec. A.J. Boeh (NA) | 8-3 |
| 152 | Jake Shaffer (L) maj. dec. Drew Landefeld (NA) | 11-1 |