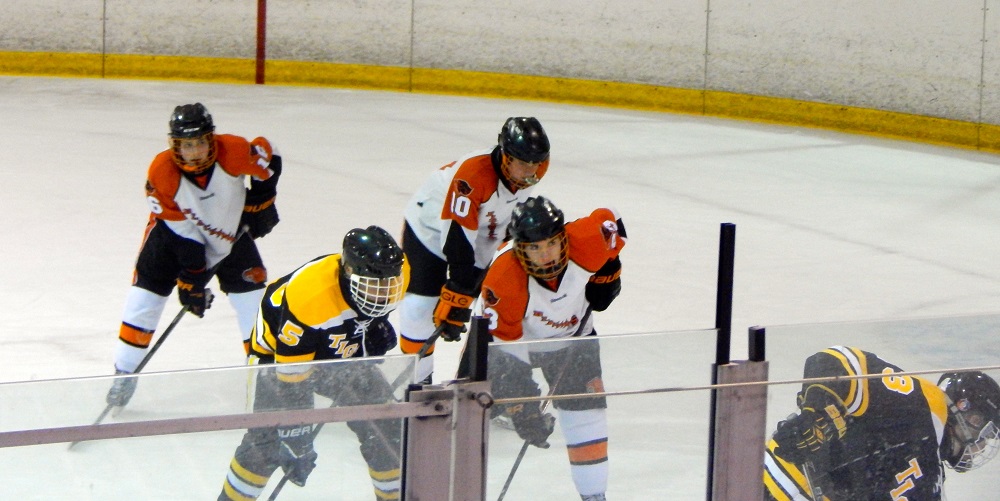 NA's Late Goal Extends Unbeaten Streak With 3-3 Tie
Forty-nine seconds away from suffering its first loss in over a month, North Allegheny rallied for a goal to secure a point in the Class AAA standings and a 3-3 tie against Bethel Park on Thursday night. The Tigers pulled the goalie to provide an extra attacker in the final minute of the game and the move paid off thanks to senior Dominick Zangaro's game tying marker.  The tie extends North Allegheny's unbeaten streak to five straight games.
In the first period, the Tigers held a 1-0 lead when Christian Louria scored at the five minute mark of the period.  However, Bethel Park took a 2-1 lead by the end of the stanza on back-to-back power play goals by Antonio Esposito and Spencer Bawcom.
North Allegheny evened the score in the second period at 2-2 on a goal by Joseph Zappia III, but Bethel Park regained the lead at the 6:46 mark of the third period on another goal by Esposito.  That set the stage for Zangaro's goal with less than a minute remaining to force overtime.  No one scored in the extra session as the game ended in a 3-3 deadlock.
In net, Joseph Hubert made 28 saves for the Tigers while William Lowe stopped 30 pucks for the Black Hawks.
North Allegheny sits at 12-2-3 atop the Class AAA standings, two points in front of second place Peters Township.  Bethel Park is 9-5-2 on the season and remains seven points behind the Tigers in fourth place. NA host Mt. Lebanon on Monday night in Warrendale. The opening faceoff is slated for 8:30 from BladeRunners.
Ice Hockey Summary vs. Bethel Park, 1-22-15
| GAME SUMMARY | | | | |
| --- | --- | --- | --- | --- |
| SCORE BY PERIODS | 1 | 2 | 3 | FINAL |
| North Allegheny | 1 | 1 | 1 | 3 |
| Bethel Park | 2 | 0 | 1 | 3 |
Ice Hockey Individual Scoring vs. Bethel Park
| INDIVIDUAL STATS | | |
| --- | --- | --- |
| FIRST PERIOD | | |
| North Allegheny | Christian Louria (Michael Kramer) | 5:00 |
| Bethel Park | Antonio Esposito (Bryce Evans) - PP | 13:47 |
| Bethel Park | Spencer Bawcom - PP | 15:33 |
| SECOND PERIOD | | |
| North Allegheny | Joseph Zappia III (Nathan Taylor, Dominick Zangaro) | 1:13 |
| THIRD PERIOD | | |
| Bethel Park | Esposito (Jason Bauer) | 6:46 |
| North Allegheny | Zangaro (Louria, Daniel Bostedo) | 16:11 |