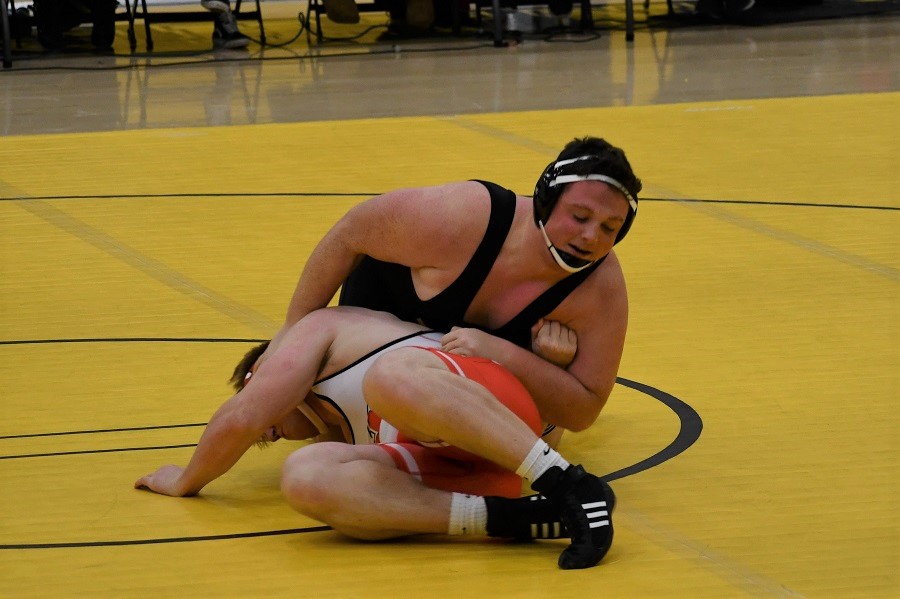 NA's Run In PIAA Individual Tournament Ends In Day Two
North Allegheny sent four wrestlers to the PIAA Class AAA individual tournament in Hershey, and despite a valiant effort, all four were eliminated in day two of action at the Giant Center.
With the very best in state in action, senior Ben Grafton reached the quarterfinals at 285 pounds before dropping a narrow 3-1 decision to Robbie Unrah of Exeter Township. In the consolation bracket, Grafton was edged in a 2-1 decision to South Fayette's Quentin Frankin. Grafton ends the season with a 39-7 record.
Sophomore Dylan Coy started the day at 120 pounds with an 8-3 decision over Carter Weaver of Williamsport in the second-round consolations. However, Jack McGill of Spring Ford nipped Coy in the third round by a 3-1 decision. Coy concluded the year with a 34-10 record.
Freshman Grant MacKay and senior Nick Marcenelle both fell in the second round of the consolation bracket. MacKay wraps up the season with a 39-12 record and Marcenelle finishes with a 38-13 mark.
Congratulations to the North Allegheny wrestling team and coaching staff for another memorable season.
PIAA Class AAA Wrestling Championships - Day Two
Friday, March 6 at Giant Center (Hershey, PA)
| Weight | Wrestlers | Score |
| --- | --- | --- |
| 120 - 2nd RD Consolation | Dylan Coy (NA) dec. Carter Weaver (Williamsport) | 8-3 |
| 3rd RD Consolation | Lance Aikey (Bellefonte Area) dec. Dylan Coy (NA) | 3-1 |
| | | |
| 152 - 2nd RD Consolation | Jack McGill (Spring Ford) dec. Grant MacKay (NA) | 3-2 |
| | | |
| 182 - 2nd RD Consolation | Giani Gilch (Council Rock South) dec. Nick Marcenelle (NA) | 2-1 |
| | | |
| 285 - Quarterfinals | Robbie Unrah (Exeter Township) dec. Ben Grafton (NA) | 3-1 |
| 3rd RD Consolation | Quentin Franklin (South Fayette) dec. Ben Grafton (NA) | 2-1 |
| | | |