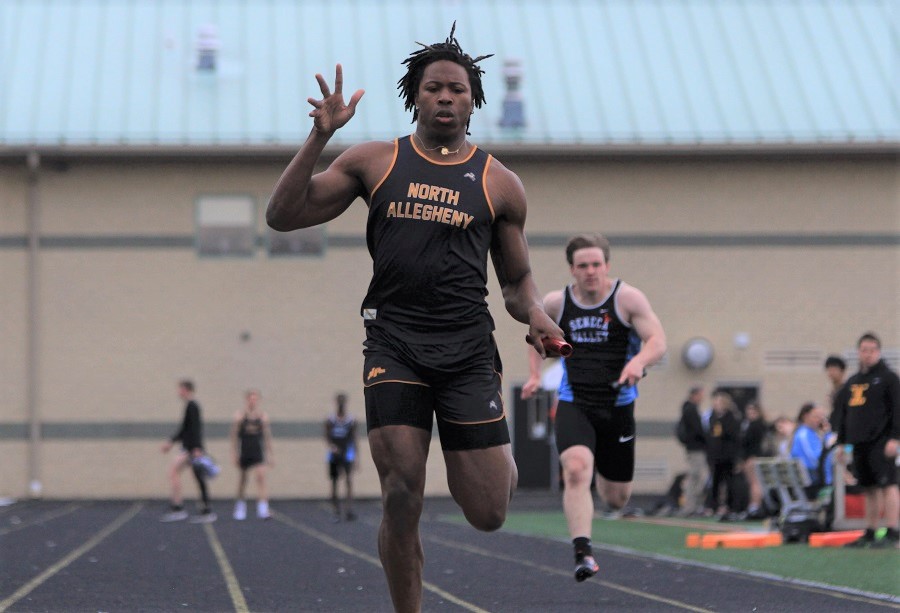 NATF Bests Shaler, Fox Chapel In Section Finale
The North Allegheny track and field team concluded section action on Monday afternoon with a boys' and girls' sweep over Shaler and Fox Chapel. The NA Boys defeated the Titans, 136-14, and earned a hard-fought victory over the Foxes, 98-52. The Lady Tigers cruised to a 140-5 win over Shaler and was equally impressive in a 128-22 triumph over Fox Chapel. The victory secured a section championship for the NA Girls.
The North Allegheny boys had several outstanding performances, including first-place finishes in both meets by junior Owen Curran in the 110m hurdles and High Jump, senior Brandon Farr in the 100m and 200m Dash, freshman John Bertram in the 1600m run, senior Eric Ghilani in the 300m Hurdles, junior Gregory Kossuth in the 800m run, senior Graham Wolfe in the 3200m run and sophomore Zach Duckworth in the Pole Vault. Other first place efforts were turned in by relay teams in the 4×800 and 4×100.
The Lady Tigers completely dominated their opponents and took first place in every event against Shaler and claimed gold in all but two events against Fox Chapel. In both meets, first-place accolades went to junior Arianna Tegtmeier in the 100m Dash, freshman Wren Kucler in the 1600m Run and 3200m Run, junior Mia Tuman in the 400m Dash, senior Kena Shannon in 300m Hurdles, freshman Elizabeth Pizon in the 800m Run, senior Lola Akindele in 200m Dash, senior Sarah Hart in the Shot Put, senior Jacqueline DiGiacomo in the Discus, junior Alaina Fantaski in the Javeline, senior Evelyn Wiethorn in the High Jump, freshman Gianna Smith in the Long Jump, sophomore Jacqueline Junko in the Triple Jump and junior Ava Como in the Pole Vault. Relay teams in the 4×800 and 4×400 also took home top honors in both meets.
With Monday's results, the North Allegheny boys' team improves to 6-1 overall and 5-1 in the section, finishing in second place in the standings behind Butler. The Lady Tigers remain undefeated with a record of 7-0 overall and claimed the section crown with a perfect 6-0 mark. The NATF varsity team will return to action Tuesday, May 3 at the WPIAL semifinals.