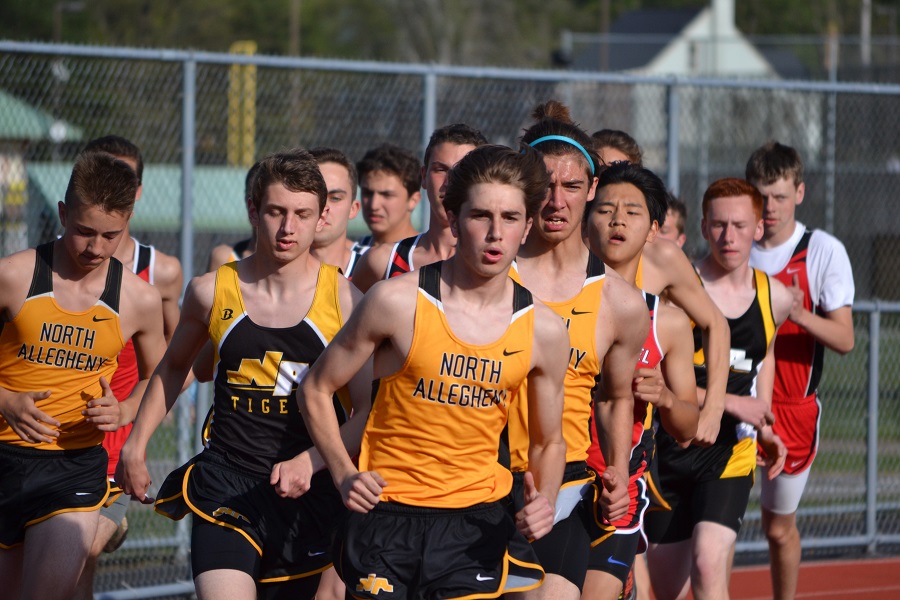 NATF BOYS ADVANCE TO WPIAL TEAM CHAMPIONSHIP MEET
Newman Stadium hosted the WPIAL Team Semifinal round on Tuesday afternoon. The NA Boys' team was able to topple Mars, Moon, and Pittsburgh Central Catholic and advance to the Team Championship meet.  Ayden Owens was the only athlete to win three events, the 100m Dash, and both hurdle races.  Other highlight winners on the track for the Tigers included Caleb Schaelchlin in the 400m dash, Zach Ehling in the 800m run, and Jacob Stupak and Sam Blechman in the 1600m and 3200m runs, respectively. On the field Andrew Manz continued his winning ways in the Javelin and Connor Cain was victorious in the High Jump.  Teammates Liam Nobbs and Nathan Ziegler took first and second overall in the Pole Vault.
In the Girls' competition, Mt. Lebanon was able to advance to the Championship meet by defeating Mars, Moon, and Peters Township.  The Team Championship meet will be held on Monday, May 9th at Baldwin High School.  Good Luck Tigers!!
Both the Tigers Boys and Girls team will split on Friday, May 6th as some athletes will compete in the 43rd Annual Baldwin Invitational while others will compete in the 2016 Pine Richland Invitational.