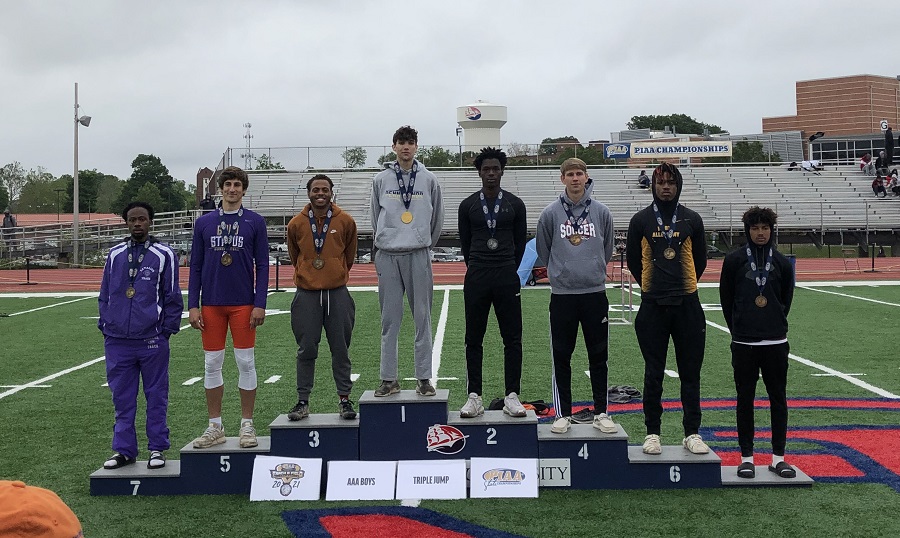 NATF Finishes Strong, Dwayne Taylor PIAA Finalist
Eighteen NATF Tigers traveled to a rain-soaked Shippensburg to compete in the PIAA Class AAA Track & Field Championships.
Junior Dwayne Taylor's performances at the meet was the feather in the Tigers' hat which helped to cap a successful 2021 season. With a podium finish, Dwayne placed seventh in the Long Jump, and a few hours later, stood again on the podium with a sixth-place finish in the Triple Jump.
Other Tigers that competed were Greg Kissuth, Jackson Pajak, Zane Kinne, and Connor Foody in the 4 x 800m Relay and Carson Sestili, Taylor, Brandon Farr, and Khyrin Boyd in the 4 x 100m Relay.
On the NA Girls' side, senior Aveline Plenter-Krelling completed her competitive career at NA with a strong finish in the 100m-Hurdles race, as did the members of the 4 x 400m Relay team, which included Ginger Tegtmeier, Rachel Hockenberry, Kenna Shannon, and Lola Akindele.  With most of these athletes returning next season, the future for NATF looks to be bright.
Photo credit:  Justin Eskra