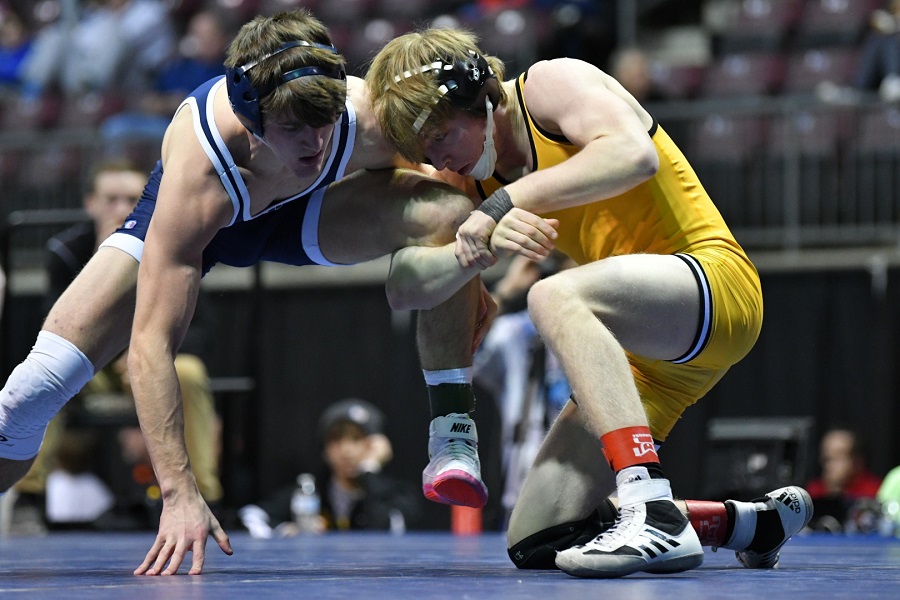 Nathan Monteparte Wins No. 100, Tigers Edged by Tornado
The North Allegheny boys' wrestling fell at Butler on Wednesday night, 29-23, in Section 2-AAA action. For the Golden Tornado, it marked their first ever win over the Tigers in their program history.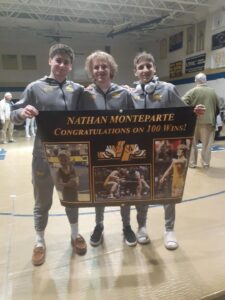 While the outcome went the way of the Tornado, there were plenty of highlights for North Allegheny, including the first bout of the night at 139 pounds. Senior Nathan Monteparte earned his 100th career victory with a 12-3 major decision over Kase Chopp to give NA a 4-0 lead. For garnering this illustrious milestone, Monteparte was named the Wright Automotive Wrestler of the Match.
Following Monteparte's win, the Tigers stretched out their lead to 10-0 thanks to back-to-back decisions by Jayson Flener and Kellen Buggey. Flener defeated Legend Wilkinson by a 4-0 decision at 145 pounds and Kellen Buggey topped Dawson Davis by a 3-2 decision at 152.
In a seesaw affair, Butler surged ahead by taking the next three bouts, including pin falls by Levi Donnell (160) and Mickey Kreinbucher (189), to take a 16-10 lead.
North Allegheny responded with a 6-2 decision by Aidan Buggey at 215 pounds over Landon Christie to trim the deficit to 16-13.
Butler answered back with a win by fall from Ethan Babay at 285 pounds and an 8-3 decision by Santino Sloboda at 107. The back-to-back victories grew the Golden Tornado advantage to 25-13.
With their backs against the wall, the Tigers staged a dramatic comeback that began with an 11-1 major decision by Casey Walker at 114 pounds against Ana Malovich. Trailing 25-17, NA continued to rally on the strength of a 3-2 decision by Griffin Reid over Kelley Schaukowitsch and a 2-0 decision by Will Bentrim over Leo Iarrapino at 127 pounds. The wins by Reid and Bentrim cut the deficit to 25-23 with one more bout remaining.
With the dual meet coming down to the final bout, Butler prevailed for the first time ever against NA when Gavin Rush picked up a major decision at 133 pounds to give the Golden Tornado a 29-23 victory.
North Allegheny slips to 8-4 overall and 2-1 in Section 2-AAA, while Butler improves to 3-0 in the section. The Tigers will take part in the Mid-Winter Mayhem Tournament in Indiana, PA, over the weekend.
Wrestling Match Summary: NA vs. Butler
| Weight | Wrestlers | Score |
| --- | --- | --- |
| 139 | Nathan Monteparte (NA) maj. dec. Kase Chopp (BUT) | 12-3 |
| 145 | Jayson Flener (NA) dec. Legen Wilkinson (BUT) | 4-0 |
| 152 | Kellen Buggey (NA) dec. Dawson Davis (BUT) | 3-2 |
| 160 | Levi Donnell (BUT) pinned Adam Rohan (NA) | 3:04 |
| 172 | Matt Zinkhann (BUT) maj. dec. Michael Hershberger (NA) | 10-1 |
| 189 | Mickey Kreinbucher (BUT) pinned Mason Hartung (NA) | 4:26 |
| 215 | Aidan Buggey (NA) dec. Landon Christie (BUT) | 6-2 |
| 285 | Ethan Babay (BUT) pinned Anthony Spivak | 2:51 |
| 107 | Santino Sloboda (BUT) dec. Gus Stedeford (NA) | 8-3 |
| 114 | Casey Walker (NA) maj. decision Ana Malovich (BUT) | 11-1 |
| 121 | Griffen Reid (NA) dec. Kelley Schaukowitsch (BUT) | 3-2 |
| 127 | William Bentrim (NA) dec. Leo Iarrapino (BUT) | 2-0 |
| 133 | Gavin Rush (BUT) maj. dec. Sam Horton (NA) | 15-2 |