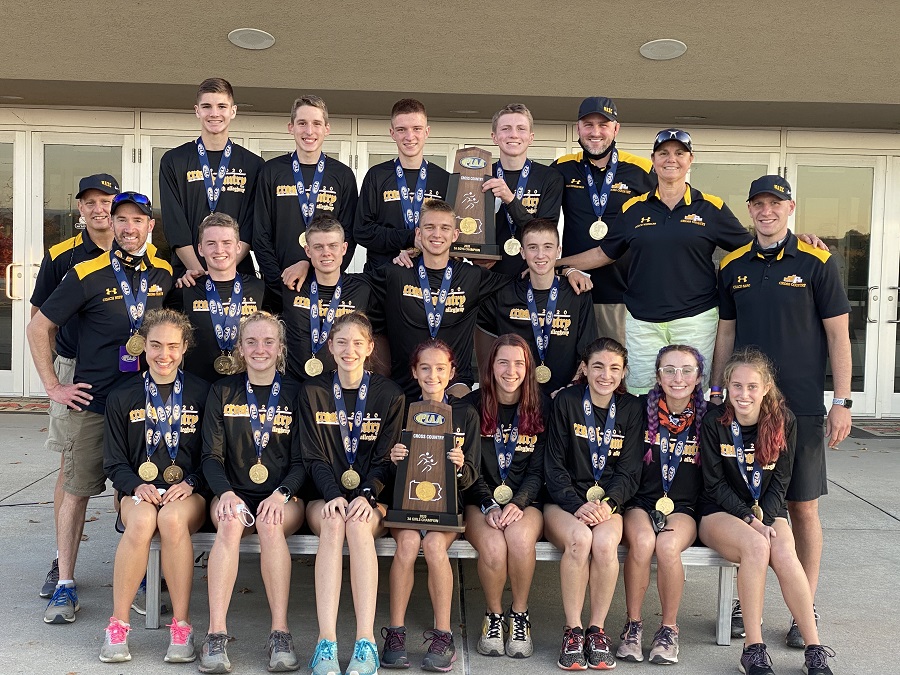 NAXC teams dominate at PIAA championships
North Allegheny cross country team capped off an amazing season on Saturday with the NA Boys and Girls coming home with the top prize at the PIAA championships – state gold. This is the fifth team state championship won by NAXC in the last three years. The competition was split into smaller races, the course ran a little over 5k and the weather was hot for cross country, but in a season filled with adversity the Tigers once again rose to the challenge.
For the first in team history, the girls won a third consecutive state title.  Senior Keeley Misutka put an exclamation point on her outstanding NAXC career by winning her heat and placing a fantastic fifth place overall.  Freshman phenom, Eva Kynaston, also medaled with an impressive 23rd place finish (5th best among Class AAA freshman).  Junior Maura Mlecko left it on the course for her teammates with a great 40th place finish.  Not too far back from Mlecko was sophomore Lexi Sundgren who had a terrific race and finished in 42nd place.  Junior Rachel Hockenberry held on strong to solidify the all-important fifth Tiger spot (62nd overall). Senior Mazzie Standish had another great championship race to conclude her NAXC career, displacing many team opponents with her 65th place finish.  Freshman Erin McGoey rounded the top seven with an 82nd place finish.  It was outstanding way to finish an amazing season.
Here are the girls team point scores:
2  Keeley Misutka, Sr         19:10
8  Eva Kynaston, Fr           20:05
12  Maura Mlecko, Jr           20:39
13  Alexa Sundgren, So         20:49
24  Rachel Hockenberry, Jr     21:34
27  Mazzie Standish, Sr        21:39
35  Erin McGoey, Fr            22:46
Total Time = 1:42:17     Total Places = 59
Complete results can be found here: http://runhigh.com/2020RESULTS/R110720AF.html
North Allegheny's Keeley Misutka wins heat 2 of the girls AAA races in an unofficial time of 19:10 #PIAAXCStates pic.twitter.com/TLGgUYJdmA

— PennTrackXC (@PennTrackXC) November 7, 2020
The NA Boys' team dominated the field and executed the race plan with perfection.  Many of the Tiger boys had a season-best performance when it mattered the most.  This was the second state title in the last three years for the boys.  Junior Scott Nalepa was terrific, leading the tigers by winning the heat and placing eighth overall.  Next up was junior Jack Hickel, who earned himself a medal with a spectacular race and 22nd place finish.  Sophomore, Gregory Kossuth, had a strong race by placing 28th overall (sixth best among Class AAA sophomores).  Junior Graham Wolfe was fourth for the Tigers with a fantastic 35th place finish. Senior Connor Foody saved perhaps his best NAXC race for last with an incredible 42nd place finish.  Michael Gauntner finished one spot behind Foody and was the top freshman in the entire AAA field.  Senior Drew Kollitz also ran great ousting a finisher at the finish line and placing 45th overall. Gauntner and Kollitz managed to displace every other team's fourth runner (or better).  It was undoubtedly a perfect way to cap off a monumental season for the boys.
Here are the team point scores:
3  Scott Nalepa, Jr           16:33
7  Jack Hickel, Jr            16:52
11  Gregory Kossuth, So        17:04
13  Graham Wolfe, Jr           17:12
15  Connor Foody, Sr           17:19
16  Michael Gauntner, Fr       17:22
18  Andrew Kollitz, Sr         17:25
Total Time = 1:25:00     Total Places = 49
Complete results can be found here: http://runhigh.com/2020RESULTS/R110720AG.html
Scott Nalepa of North Allegheny takes heat 2 in an unofficial 16:33. The Tigers looked very strong in the team race.

Now we'll wait for the final team scores #PIAAXCStates pic.twitter.com/byysuFYjqA

— PennTrackXC (@PennTrackXC) November 7, 2020