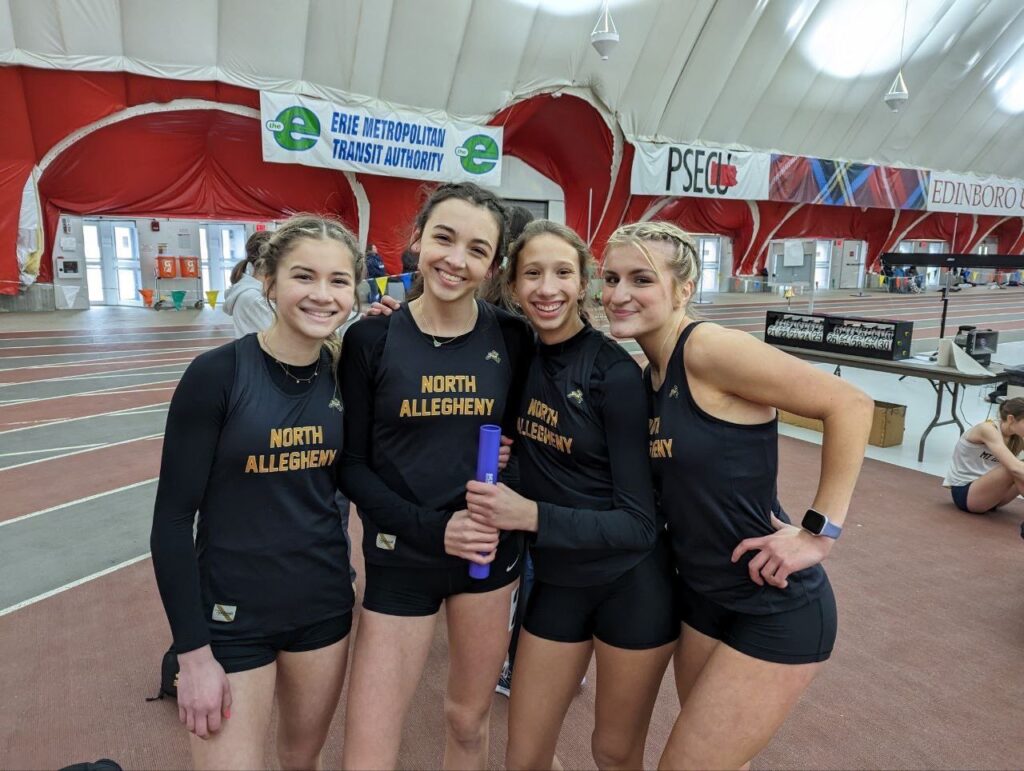 New School Record Set in 4×400 Relay At TSCTA Meet #3
It was a record-setting day for the North Allegheny indoor track and field team at TSTCA Meet #3 on Saturday at Edinboro. The quartet of Maya Currie, Mackenzie Winning, Isabella Costa and Chloe Reed set a new school record in the girls' 4×400 relay with a time of 4:11.67.
The first-place effort by Currie, Winning, Costa and Reed in the 4×400 was just the tip of the iceberg for the Tigers on the day. Individually for the Lady Tigers, sophomore Wren Kucler took first place in the One Mile Run and was followed closely behind by junior Eva Kynaston in second place. Sophomore Robin Kucler won gold in the 3000m run with junior Erin McGoey taking third place in the same event. In the Pole Vault, junior Sophie Aglietti took second place and freshman Lindsay Breneman garnered third place. The Distance Relay combo of the Kucler sisters, sophomore Kendall Lucas and Winning also took home gold. The 4×200 Relay grouping of Curry, Costa, Reed and Addie Pavely finished in second place.
The North Allegheny boys were also impressive and were paced by a pair of first-place performances from senior Rohan Gupta in the Long Jump and Triple Jump. Senior Rourke Kennedy claimed second place in the 60 Meter Dash and junior James Behrend finished third in the One Mile Run.
For a complete look at results, click here.
The North Allegheny indoor track and field team will return to action on Saturday, Feb. at TSTCA Meet #4.