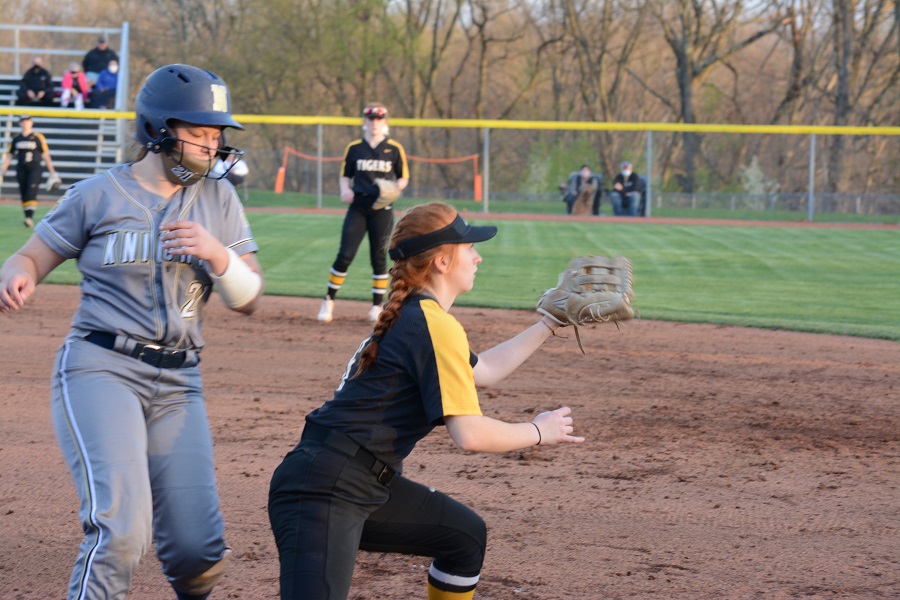 North Allegheny Falls to Section Opponent, Norwin
The North Allegheny Tigers lost to the Norwin Knights 9-2 in a Section 2-6A contest.
Norwin took the lead early, scoring two runs in the first inning. The Tigers answered back in the bottom of the inning when senior Kendall Trunzo hit a leadoff triple. Sophomore Meghan McDonough then singled, allowing senior Ashely Solenday to score both base runners on a hard-hit ground ball and subsequent fielding error.
The score remained tied until Norwin took the lead again in the third inning, scoring five runs on three hits, including a three-run homerun. Despite some offensive opportunities for the Tigers in the later innings, which included singles by senior Emily Lagnese, sophomore Ali Domachowski, and Solenday, the Tigers were unable to score again.
Freshman Anne Melle started in the circle for North Allegheny, striking out one. Junior Alaina Whipkey took the mound in the fourth, striking out four and walking one.
The Tigers will travel to Hempfield tomorrow. The game is scheduled to begin at 4:00pm.
Box Score - Softball vs. Norwin - 04/13/2021
| Score by Innings | 1 | 2 | 3 | 4 | 5 | 6 | 7 | R | H | E |
| --- | --- | --- | --- | --- | --- | --- | --- | --- | --- | --- |
| Norwin | 2 | 0 | 5 | 0 | 0 | 2 | 0 | 9 | 11 | 1 |
| North Allegheny | 2 | 0 | 0 | 0 | 0 | 0 | 0 | 2 | 7 | 2 |
WP - Angelina Pepe LP - Anne Melle (2-3)