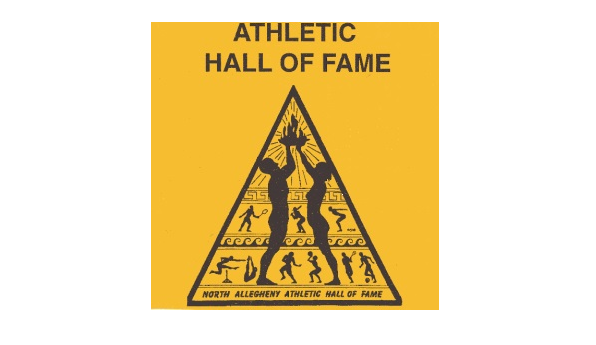 North Allegheny Hall of Fame Class of 2021 Announced
The North Allegheny Hall of Fame Association and the North Allegheny Athletic Department is proud to announce the Hall of Fame Class of 2021. This year's class will be the largest in North Allegheny history with 18 inductees and four special award recipients. The 18-member class will include the following outstanding student-athlete and coaches:
North Allegheny Hall of Fame Class of 2021
| 2021 Inductees | |
| --- | --- |
| Scott Abel (Class of 1984) | Rick Meister (Coach) |
| Travis Barnes (Class of 1994) | Rachel Middleman (Class of 2007) |
| Madi Beining (Class of 2016) | Heidi Miller (Coach) |
| Zach Buerger (Class of 2014) | Brian Monaghan (Class of 1989) |
| Becky Etter Sharp (Class of 1975) | Meg Morningstar (Class of 2015) |
| Steve Harris (Class of 1996) | Allie Pennetti (Class of 2012) |
| Kylie Isaacs (Class of 2014) | Larissa Steeb (Class of 2010) |
| Augie Leon (Class of 1989) | Joe Waltko (Class of 2009) |
| Jamie Luchini (Class of 2012) | Shannon Yon-Kelley (Class of 2004) |
In addition, the Hall of Fame Association will honor Mr. Gene Modic with the Joseph Drazenovich Award for legendary service, and Mr. David Groetsch with the Bob Miller Award for outstanding support of North Allegheny Athletics. The Bob Austen Distinguished Coaching Service Award will honor Mr. Jack Davis for his outstanding contributions to North Allegheny's successful wrestling program.
The North Allegheny Hall of Fame Committee has also added the Distinguished Career Achievement Award, named after former North Allegheny Superintendent of Schools, Dr. Lawrence Bozzomo. The Dr. Lawrence Bozzomo Award for Distinguished Career Achievement will be awarded to a former North Allegheny student-athlete who exemplifies excellence in their occupation. The inaugural award recipient will be Mr. Mark Donovan, President of the Kansas City Chiefs. Mr. Donovan graduated from North Allegheny in 1984.
The Hall of Fame Association will continue the tradition of acknowledging the preceding years' individual and team PIAA State Champions. This year, the Hall of Fame Committee will recognize seven state champions and five individual PIAA gold medalists. The team champions include girls' volleyball (2019 and 2020), boys' and girls' cross country, girls' basketball and girls' swimming and boys' volleyball. Individual PIAA gold medalists include the 400 Free Relay swimming combo of Torie Buerger, Olivia Kisow, Lexi Sundgren and Molly Smyers (2020), and diver Christina Shi (2021).
The 24th Annual Hall of Fame Banquet will be held on Thursday, October 7, 2021 at The Chadwick in Wexford. A social hour will begin festivities at 5:00 p.m., followed by the Induction Ceremony at 6:00 p.m.