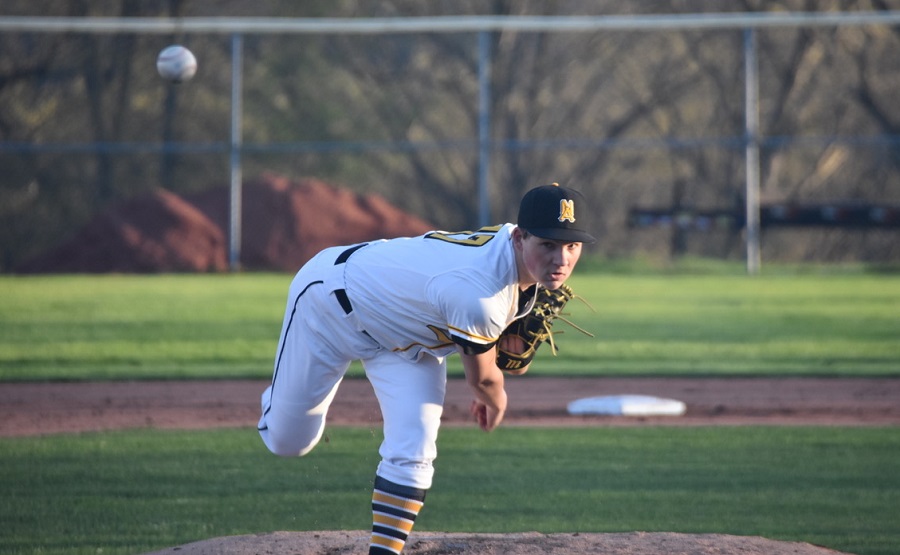 North Allegheny Handles Hampton, 14-2
For the second straight game, the North Allegheny baseball team rolled to a mercy-rule win with a 14-2 triumph over the visiting Hampton Talbots on Monday night. Trailing 2-0 heading into the bottom of the second inning, the Tigers used an avalanche of offense to overwhelm the Talbots. The Tigers scored two runs in the second inning, eight in the third inning and four more in the fourth to lock up the non-section win.
North Allegheny blistered Hampton pitching for 10 hits. Leading the NA hit parade were seniors Jared Orwell and Anthony Hattrup, who each posted two hits, two runs and two RBI. Also chipping in with two RBI apiece were freshmen Aaron Posey and Cole Young, and seniors Shane Murphy and C.J. Weller. Senior Trevor Freyvogel scored a pair of runs and added an RBI.
The benefactor of all this run support was pitcher Zach Trdinich, who was making his first start of the season and fourth overall appearance. The senior right-hander tossed three innings, allowing two runs with six strikeouts and one walk for his second victory of the campaign. Relievers Ryan Partridge and Kevin Schott worked one scoreless and hitless inning each, combining for five strikeouts and one walk.
Hampton's Joey Kuzniewski struggled to throw strikes in a short outing that lasted only 1.1 innings. Kuzniewski walked four and allowed two runs. Talbots reliever Michael Kosko took the brunt of the NA onslaught, permitting 12 runs (11 earned) on ten hits in 2.2 innings.
North Allegheny improves to 9-5 overall with the non-section win. Hampton, who remains in first place in Section 2-5A with a 4-1 record, falls to 7-5 overall on the season. The Tigers hope to keep the hot hitting going in their next matchup, a section battle with the Central Catholic Vikings on Thursday at 7:00 p.m. The contest will be broadcast live via the internet on the North Allegheny Sports Network.
Box Score - Baseball vs. Hampton - 04/22/2019
| Score by Innings | 1 | 2 | 3 | 4 | 5 | 6 | 7 | R | H | E |
| --- | --- | --- | --- | --- | --- | --- | --- | --- | --- | --- |
| Hampton | 1 | 1 | 0 | 0 | 0 | X | X | 2 | 6 | 1 |
| North Allegheny | 0 | 2 | 8 | 4 | X | X | X | 14 | 10 | 1 |
WP - Zach Trdinich (2-0) LP - Joey Kuzniewski