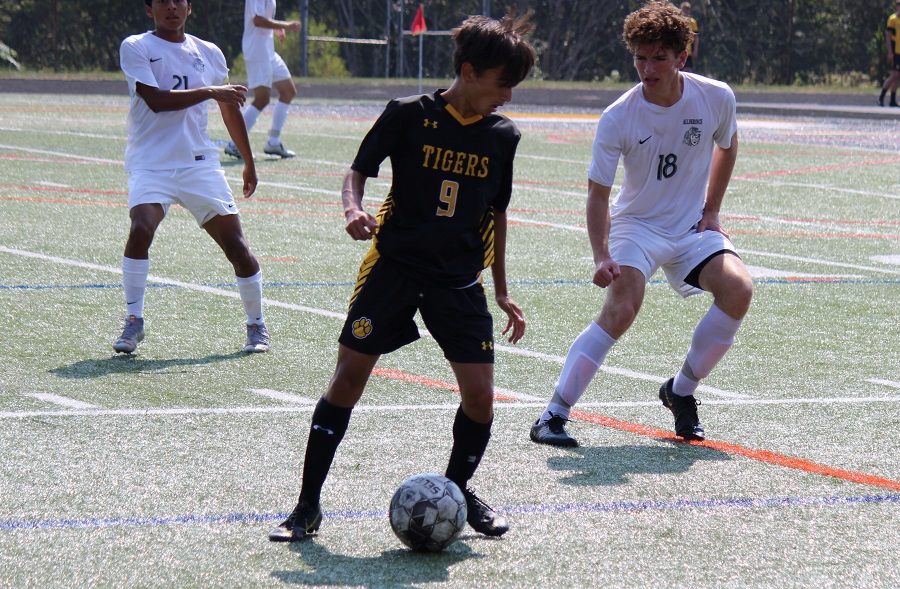 North Allegheny Rolls 'Dice, 3-0
North Allegheny Boys Soccer program celebrated their eighteen seniors on a hot Saturday at Newman Stadium for the annual Senior Recognition day.  The seniors did not disappoint and, with some help from their underclassmen teammates, delivered a sound 3-0 victory over section foe Allderdice for the many fans in attendance on the gorgeous day.
For the most part, the first 20 minutes of the game was played in between the 20's, with neither team generating many quality scoring chances.  At 15:33 remaining, however, senior midfielder Braden Jones crossed a sharp pass from the right into the box where senior forward Sam Malida deftly switched feet and buried a shot in the back of the net, putting the Tigers up 1-0, in what would end up being the game winning goal.
Shortly after another opportunity came when senior midfielder Jack Walsh arced a rainbow cross from the right that was headed for a wide-open senior midfielder Justin Mericle, however the Allderdice goalie made a remarkable save jumping high to intercept the pass.  Senior midfielders Saif Ali and Andrew Solman enabled some solid possession time anchoring the middle of the field after entering midway through the period.  Solid defense by the senior backfield of Samuel Giannetti, Jonathan Ross, Darien Sansosti and Jason Roman keep the Dragons of the board an minimized the number of shots senior goalie Jonathan Partridge had to face.
The score remained 1-0 until 19:00 left in the period, when the stealthy Maldia struck again.  Junior midfielder Kensley Owens freed himself from a defender on the right, sending a cross into the box that found sophomore forward Evan Anderson.  The ball collided into two defenders and the goalie before finding Maldia open on the left who quickly finished his second goal of the game, putting the Tigers up 2-0.
From that point, the Dragons had a slight edge in possession time as the Tigers were happy to fall back and defend the two-goal lead while time continued to expire.   A final tally added late when another well placed pass by Owens found senior midfielder Matt Van Kirk open in the box putting the Tigers up for good, 3-0, with one minute remaining the game.
The Tigers, with their third straight win, improve to 7-3 overall, 5-3 in the section, and travel to Seneca Valley on Tuesday for another section matchup.
Boys Soccer Summary vs. Allderdice, 9-21-19
| GAME SUMMARY | | | |
| --- | --- | --- | --- |
| SCORE BY HALVES | 1 | 2 | FINAL |
| Allderdice | 0 | 0 | 0 |
| North Allegheny | 2 | 1 | 3 |