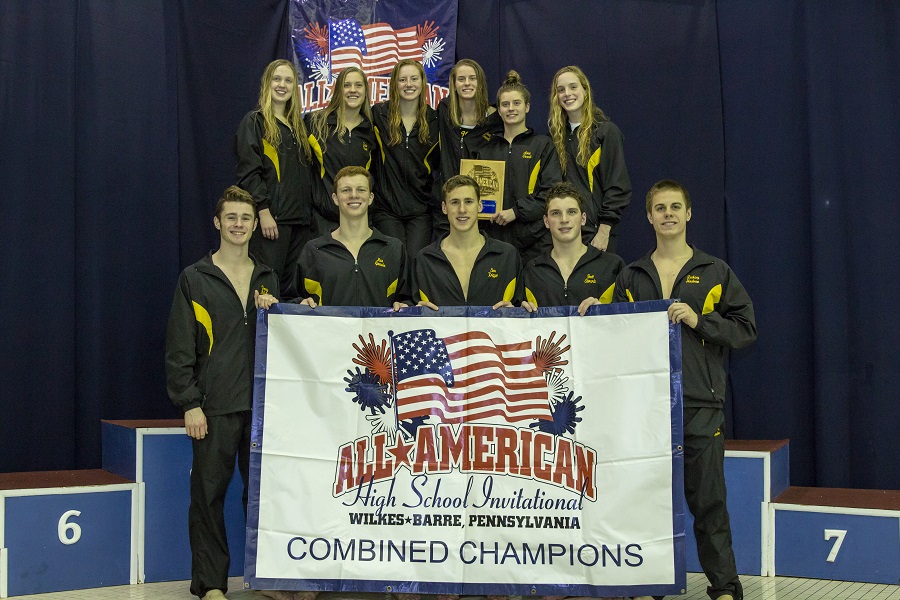 North Allegheny Takes Gold at All-American Invitational
The North Allegheny Swim team travelled to Wilkes-Barre on January 13 – 14 for the six-team All American Invitational. Both the girls' and boys' teams captured first place.  The boys team scored 825.50 points and won every event except the 100 Breast in their victory.  The next closest competitor was Hempfield with 453 points.  The girls scored 732 points and Radnor, with 455 points, placed second.
The boys were led by double winners Mason Gonzalez and Andrew Zhang.  Mason won the 50 Free and the 100 Free while Andrew won the 100 Fly and the 100 Back.  Eben Krigger won the 200 Free with Ricky Mihm finishing second.  Maxwell Gonzalez had a victory in the 200 IM.  In the 500 Free, North Allegheny took the top 4 places.  Eben Krigger was the winner followed by Ricky Mihm, Maxwell Gonzalez and John Ehling.  North Allegheny relay teams continued their strong finishes with another sweep.  The team of Andrew Zhang, Jerry Chen, Mason Gonzalez and Jack Wright won the 200 Medley Relay.  Ricky Mihm, Eben Krigger, Maxwell Gonzalez and Mason Gonzalez won the 200 Free Relay while Jack Wright, Ricky Mihm, Andrew Zhang and Eben Krigger won the 400 Free Relay.
The girl's team was again led by Lauren McGrath and Torie Buerger.  Lauren won the 200 Free with Kristine Mihm finishing second, and the 100 Free.  Torie won the 100 Fly, with Lila McGrath in second, and the 100 Back.  Ann Juneau won the 200 IM with Aimee Verardi finishing second.  The girls won all three of the relays.  Torie Buerger, Ann Juneau, Megan Christy, and Anna Verardi started it off with a win in the 200 Medley Relay.  Lauren McGrath, Anna Verardi, Aimee Verardi and Ann Juneau won the 200 Free Relay.  Kristine Mihm, Lauren McGrath, Aimee Verardi and Torie Buerger finished off the relay victories with a win in the 400 Free Relay.
North Allegheny is home Tuesday, January 17, with a Section 2 meet against Hampton.