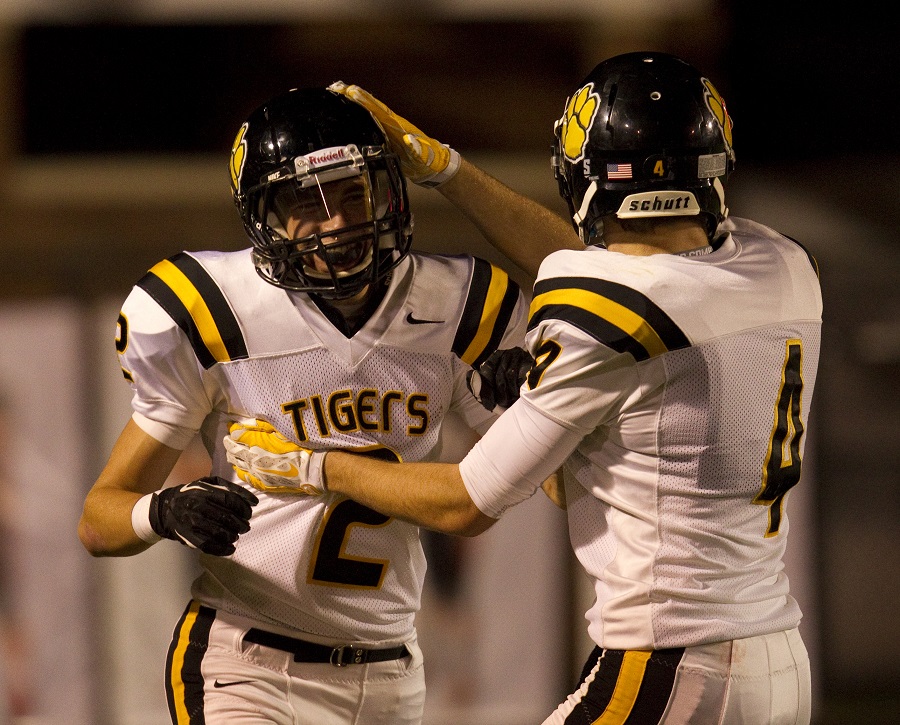 North Allegheny Wallops Wildcats, 49-10
North Allegheny racked up 403 yards of total offense as the Tigers ran roughshod through the Latrobe Wildcats for a 49-10 non-conference victory on the road at Memorial Stadium. Quarterback Jeff Clemens delivered three touchdown passes for the second straight week, and receiver Clay Byerly hauled in two of those scores on an efficient and productive night for the NA passing game.  Clemens completed 7 of 9 passes for 134 yards, while Byerly produced 60 yards on his only two catches of the game, both for touchdowns.
Clemens and the Tigers wasted little time in attacking an overmatched Latrobe defense. On North Allegheny's third play from scrimmage, Clemens tossed a 24-yard touchdown pass to James Lamanna with 8:56 on the first quarter clock to give the Tigers a 7-0 lead.  Less than two minutes later, Clemens struck again for an 8-yard touchdown strike to Byerly and the score was 13-0, Tigers. Seth Mancuso's extra point attempt was blocked.
North Allegheny's third possession ended in a fumble at the Latrobe 48-yard line and the Wildcats converted the miscue into points, capping an 11-play drive with a 35-yard field goal by Joe Reed to cut the Tigers lead to 13-3. The Tigers answered on the ensuing possession with a five-play, 77-yard march that culminated on a 17-yard touchdown run by Nick Provenzano. Cory Cavanaugh tossed an accurate pass to Zech Nachazel for a successful two-point conversion on a fake extra point, and NA's lead swelled to 21-3.  Before the end of the half, Clemens launched a 52-yard touchdown pass to Byerly and Michael Pope scored on a 6-yard run to increase the Tigers lead to 35-3 at intermission.
In the second half, Latrobe's first possession of the third quarter ended in disaster when Byerly intercepted a tipped pass from Wildcats quarterback Craig Stevens and hustled 75 yards for a defensive touchdown to give the Tigers a 42-3 advantage. The Byerly touchdown, his third of the night, invoked the mercy rule and also earned him Wright Automotive Player of the Game honors.
With 4:23 to go in the third quarter, Cavanaugh and Pope combined on a screen pass for a 36-yard touchdown and a 49-3 lead. Latrobe capped the scoring with 6:11 remaining in the fourth quarter on a 4-yard touchdown run by Nick Aiello.  The senior running back was a bright spot for the Wildcats in an otherwise sour night, rushing for 68 yards and a touchdown. Aiello accounted for 74 of Latrobe's 124 total yards on the night.
The Tigers ground game was paced by Pope who rushed for 87 yards on 10 carries and scored two total touchdowns. Provenzano added 64 yards rushing and a score.
North Allegheny improves to 6-2 overall with the non-conference win. Latrobe sinks to 1-7 overall.  The Tigers will host the North Hills Indians next week in a showdown for third place in the Northern Eight Conference and with a likely home playoff game at stake. Kickoff is set for 7:30 next Friday night.
Football Summary vs. Latrobe, 10-17-14
| GAME SUMMARY | | | | | |
| --- | --- | --- | --- | --- | --- |
| SCORE BY QUARTERS | 1 | 2 | 3 | 4 | FINAL |
| North Allegheny | 13 | 22 | 14 | 0 | 49 |
| Latrobe | 0 | 3 | 0 | 7 | 10 |
Football Individual Scoring vs. Latrobe
| INDIVIDUAL STATS | | |
| --- | --- | --- |
| 1st QUARTER | | |
| North Allegheny | James Lamanna 24 yd pass from Jeff Clemens (Seth Mancuso kick) | 8:56 |
| North Allegheny | Clay Byerly 8 yd pass from Clemens (kick failed) | 7:00 |
| 2nd QUARTER | | |
| Latrobe | Joe Reed 36 yd field goal | 11:04 |
| North Allegheny | Nick Provenzano 17 yd run (Zech Nachazel pass from Cory Cavanaugh) | 9:01 |
| North Allegheny | Byerly 52 yd pass from Clemens (Mancuso kick) | 5:34 |
| North Allegheny | Michael Pope 6 yd run (Mancuso kick) | 0:59 |
| 3rd QUARTER | | |
| North Allegheny | Byerly 75 yd interception return (Mancuso kick) | 10:19 |
| North Allegheny | Pope 36-yd pass from Cavanaugh (Ben Cinker kick) | 4:23 |
| 4th QUARTER | | |
| Latrobe | Nick Aiello 4 yd run (Reed kick) | 6:11 |