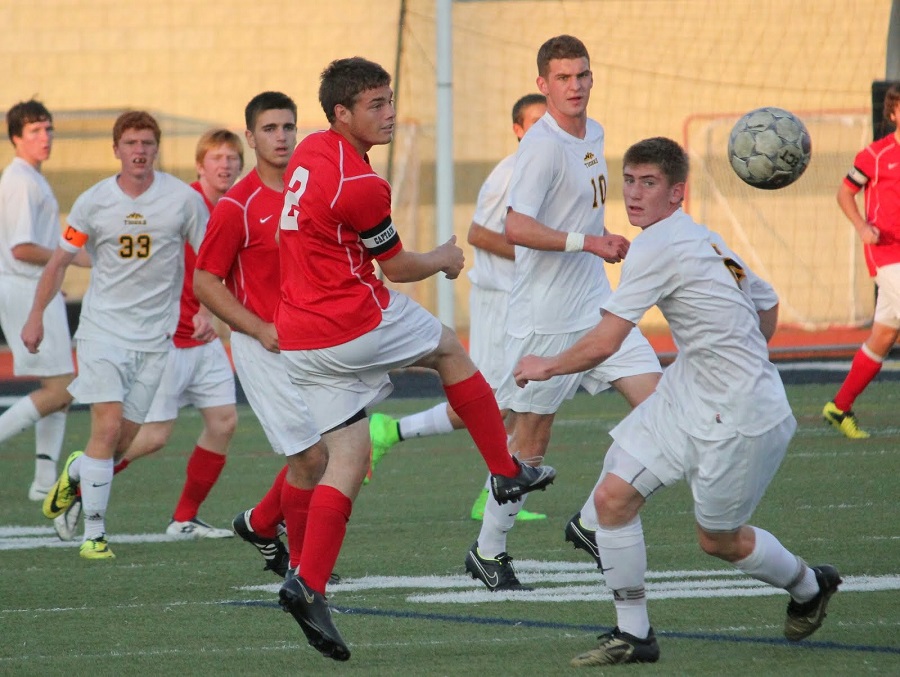 Peters Finishes Off North Hills In Double OT Thriller
by Boys' Soccer Contributor
With a large and raucous crowd in attendance, the boys'soccer team hosted North Hills for a shot at sole possession of second place in the section.  The first 10 minutes of the game had both teams playing even with few good chances on goal.  The Tigers Nick Thornton finally got the first shot on goal off a Steve Binnig corner kick. North Hills gained some momentum on numerous long throw-ins into the box, peppering shots at Tigers goalie Luke Nolan who hung tough and made the saves. However, at the 13:32 mark Indian forward Nate Kummer beat Nolan in front off a cross from a forward who beat the NA defense down the sideline.  The first half ended very evenly with NA and North Hills both having three shots and NA leading on corners 3-2, but the scoreboard showed a 1-0 deficit.
The Tigers played like a team possessed in the second half with numerous corners and shots against the North Hills keeper. At 20:44, Binnig, off passes from Josh Luchini and then Kevin Dougherty, scored the tying goal to even the contest at 1-1.  Shots ensued then from NA's Thornton, Jason Earle, Adam Maloney, and Luchini as the Tigers pressured North Hills and gained momentum. The last 12 minutes of regulation saw North Hills creep back into it as they had three shots on frame saved by Nolan along with three successive corner kicks which the Tiger defense cleared out of the scoring zone before the buzzer rang ending regulation time.
The first overtime period saw both teams playing cautious with each having only one shot on goal, but Michael Peters almost ended it with a few minutes left on a feed by Luchini as it just sailed high over the North Hills net with three minutes left.
During the second overtime period the excitement level increased as each shot, pass and run had the crowd on their feet for both teams. North Hills had a shot on net a few minutes in that was saved by Nolan. North Allegheny started to string some passes from Ben Cinker, Binning, Peters, Luchini and Dougherty who all game gave a tireless effort splitting time between midfield and forward.  With 1:25 left, Rafael Bergerman shot wide of the North Hills net and it appeared the game would end in a draw. However, Bergerman would get another opportunity and passed a ball into the box that Luchini saved from going out of bounds. Luchini then crossed it to Peters on the far side of the open net who placed a shot past a sprawling North Hills defense and goalie for a dramatic 2-1 double overtime victory.
With the win at the Tigers Den on Saturday, North Allegheny keeps sole possession of second place in the section with a 4-1-1 record and 5-3-1 overall mark.  This resilient group hosts first place Seneca Valley this coming Tuesday, September 23 at 7:30pm.  If you're a fan of soccer, you need to be at this event as the boys are looking for an even bigger crowd Tuesday to root them on and break Seneca's two year unbeaten string in the section!