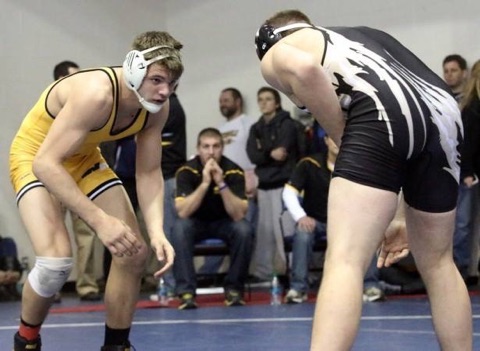 PIAA Gold For Jake Woodley
It was a sweet finish in Hershey for North Allegheny 's Jake Woodley at the PIAA individual wrestling tournament on Saturday. The NA junior captured PIAA gold to solidify himself as the best wrestler in Pennsylvania at 182 pounds. Woodley defeated Drew Peck of Chambersburg in the semifinals by a 3-0 decision.  In the championship bout, Woodley faced the same wrestler he defeated for the WPIAL title at 182 pounds, Milton Kobaly of Belle Vernon. The end result was nearly identical as again Woodley defeated Kobaly, this time by an 8-4 decision.
Along with Woodley, two other Tigers earned PIAA medals. Junior Jake Hinkson won his fourth round consolation match with Chambersburg's Garrett Kyner by a 5-3 decision and ultimately finished in sixth place at 138 pounds.
At 195 pounds, sophomore Francis Duggan dropped a fourth round consolation bout to Trey Hartsock of Mifflin County by a narrow 3-2 decision but bounced back in his seventh place bout with Upper St. Clair's Eli Grape. Avenging a prior defeat to his USC foe in the WPIAL semifinals last week, Duggan squashed Grape by a 12-6 decision for a PIAA seventh place medal.
The strong finish by Woodley, Hinkson and Duggan concludes a terrific season by the North Allegheny wrestling team. Congratulations to the NA wrestlers for an outstanding year.
PIAA Class AAA Wrestling Championships - Day Three
Saturday, March 12 at Giant Center, Hershey, PA
| Weight | Wrestlers | Score |
| --- | --- | --- |
| 138 - 4th Consolation | Jake Hinkson (NA) dec. Garrett Kyner (Chambersburg) | 5-3 |
| 5th Consolation | Colin Cronin (Upper Darby) dec. Jake Hinkson (NA) | 7-0 |
| 5th Place Bout | Shaun Wilson (Waynesburg) dec. Jake Hinkson (NA) | 7-4 |
| | | |
| 182 - Semifinals | Jake Woodley (NA) dec. Drew Peck (Chambersburg) | 3-0 |
| Championship | Jake Woodley (NA) dec. Milton Kobaly (Belle Vernon) | 8-4 |
| | | |
| 195 - 4th Consolation | Trey Hartsock (Mifflin County) dec. Francis Duggan (NA) | 3-2 |
| 7th Place Bout | Francis Duggan (NA) dec. Eli Grape (Upper St. Clair) | 12-6 |