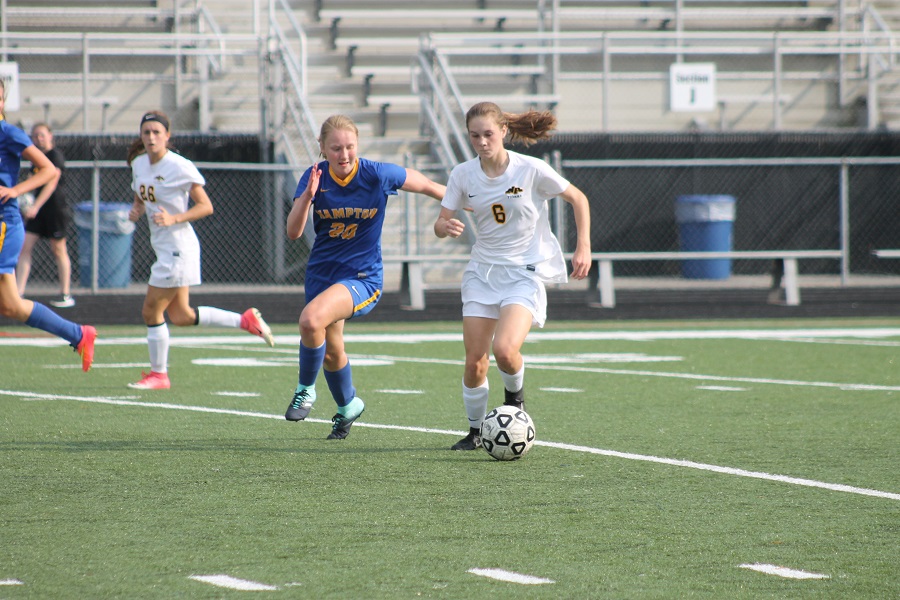 Pine-Richland Fends Off NA For First Place In Section 1-AAAA
Winners of five in a row, the third-ranked North Allegheny Lady Tigers hosted the two-time reigning section champion Pine-Richland Rams on Monday night. Despite a two-goal effort from sophomore Ava Ruppersberger, the Rams earned a 4-2 victory at Newman Stadium. Pine-Richland has won four in a row and five of the last six games against the Tigers in the head-to-head series.
The Tigers struck first in this Section 1-AAAA battle and took a 1-0 lead with 28:47 on the first half clock when Ava Ruppersberger planted a left-footed shot past Rams goalie Katharine Kelly. North Allegheny maintained that advantage until Pine-Richland was able to utilize its team speed. Freshman standout Megan Donnelly accepted a long lead pass near the top of the goalie box and chipped the ball slowly, but accurately, past NA net minder Julia Correa to even the score at 1-1. The Rams took the lead a little over a minute later with 17:13 remaining in the first half on a marker by sophomore Allie Malobicky to grab a 2-1 advantage. Donnelly had several scoring chances in the final 10 minutes of the half but was turned away by Correa and the Tigers defense.
Two minutes into the second half, it looked like Rams might expand their lead when Sami Kelly got behind goalie Olivia Ruppersberger on the left wing and fired a shot toward the net. However, sophomore Bella Pietropola backed up the play and denied Kelly's shot to keep the score at 2-1, Rams. Following Pietropola's great defensive play, the Tigers tied the game at 2-2 on another left-footed goal from 25 yards out by Ava Ruppersberger, her fourth of the season, with 36:03 left in the second half. For her efforts, Ava Ruppersberger was named the Wright Automotive Player of the Game.
At 30:15, the team speed of Pine-Richland helped generate another good scoring chance and Sami Kelly converted by deflecting a ball into the NA net for a 3-2 lead. Senior Morgan Anderson and sophomore Emma Bundy  continued to apply pressure for the Tigers in the second half but were unable to find the equalizer. Ultimately, Pine-Richland put the game out of reach on Donnelly's second goal of the night, and eighth of the season, with 15:59 remaining to bring the score to its eventual final, 4-2, Rams.
With the loss, North Allegheny slips to 5-2 overall and 2-1 in Section 1-AAAA. Pine-Richland moves into sole possession of first place with a 3-0 section mark and 4-1 overall record. The Lady Tigers look to bounce back on Wednesday night with a visit to Butler to take on the Tornado.
Girls Soccer Summary vs. Pine-Richland, 9-18-17
| GAME SUMMARY | | | |
| --- | --- | --- | --- |
| SCORE BY HALVES | 1 | 2 | FINAL |
| Pine-Richland | 2 | 2 | 4 |
| North Allegheny | 1 | 1 | 2 |