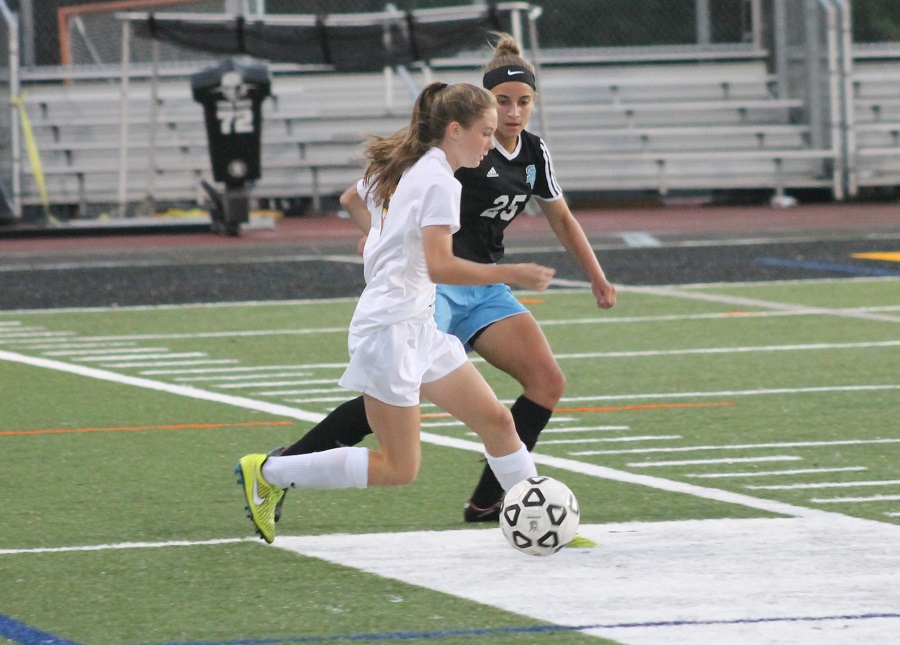 Raiders Edge Tigers Again, 2-1
For the second time this season, the Seneca Valley Raiders squeaked by the North Allegheny girls' soccer team by a 2-1 decision. In the first meeting at Newman Stadium on September 13, Jessica Frank scored the game-winning goal with just 28 seconds remaining. Wednesday night's contest at NexTier Stadium didn't have the same dramatics but a second-half marker by Morgan Hoffman did give the Raiders another one-goal victory over the Tigers.
It was North Allegheny who struck first in the opening half after an extended offensive push in the Seneca Valley zone. Freshman Emma Bundy scored on a strong, low shot that found its way past the SV goalie for a 1-0 NA lead. The Raiders managed to tie the score before halftime at 1-1 on a goal by Ashley Rea, assisted by Frank.
The second half was a crossing match for much of the first 15 minutes, going back and forth with no shots on goal for either side. Eventually, Seneca Valley broke the tie with a tap-in goal by Hoffman to send the Raiders to a 2-1 victory.
Seneca Valley outshot North Allegheny, 13-7. The Tigers led in corner kicks, 4-2.
The loss, North Allegheny's third in a row, drops the Tigers record to 4-6 overall and 2-4 in Section 1-AAAA. Seneca Valley rises to 7-5 overall and 4-2 in the section. The Lady Tigers visit Shaler on Monday night.