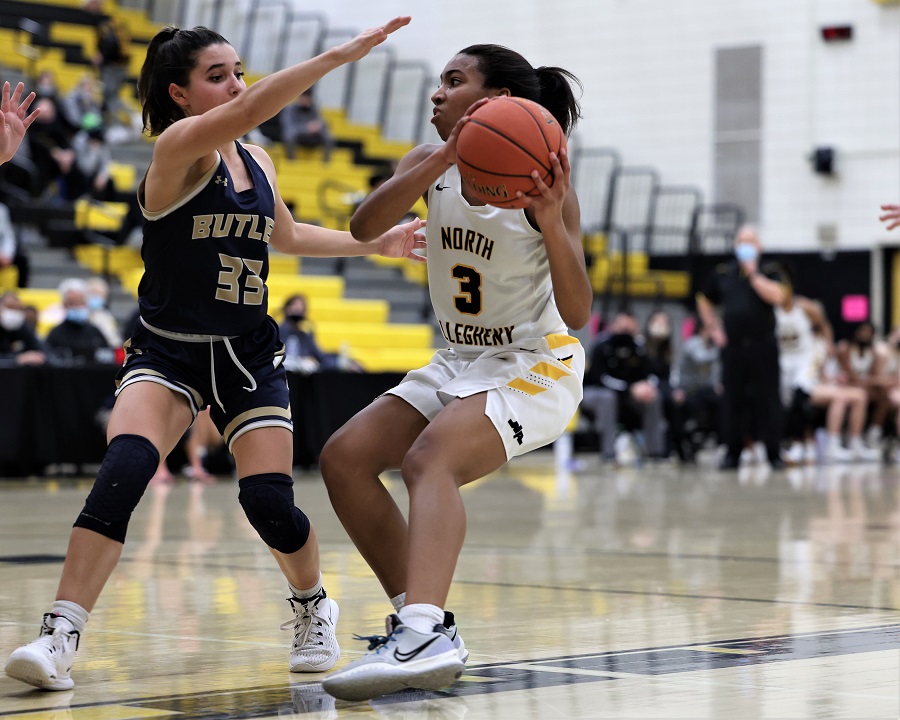 Reigning PIAA Champs Bounce Butler, 61-46
After suffering their first loss in nearly a full calendar year, the North Allegheny Tigers bounced back on Tuesday evening with a 61-46 win over Butler in Section 1-6A action. The victory was North Allegheny's 24th in a row in the head-to-head series with the Golden Tornado.
Butler jumped out to a 24-15 lead midway through the second quarter, sparked by the hot shooting of Makenna Maier. The senior guard displayed great range with three 3-pointers in the first half on her way to a team-high 14-point night.
The reigning PIAA champions weathered the early storm from the Tornado and put together a 13-2 run to grab a two-point lead at the half. Senior Jasmine Timmerson knocked down a 3-pointer to tie the game at 26-26 and sophomore Lydia Betz gave NA a 28-26 advantage with a layup just before halftime.
With the game still tightly contested in the third quarter, North Allegheny used an 8-1 run to take a 47-39 lead heading into the fourth period. From there, the Tigers pulled away in the final stanza for a 61-46 victory.
Timmerson was the steady presence throughout the night a game-high 22 points and a bevy of rebounds and steals. For her efforts, Timmerson was named the Wright Automotive Player of the Game.
Along with Timmerson, senior Taylor Rawls scored 13 points off the bench and fellow senior Emma Fischer chipped in with 11 points for the Tigers.
With the win, North Allegheny improves to 16-1 overall and 10-1 in Section 1-6A. Butler slips to 9-8 overall and 5-6 in the section. The Tigers are slated to host Shaler on Thursday night at 7:30 p.m. The game will be broadcast live via the internet on the North Allegheny Sports Network.