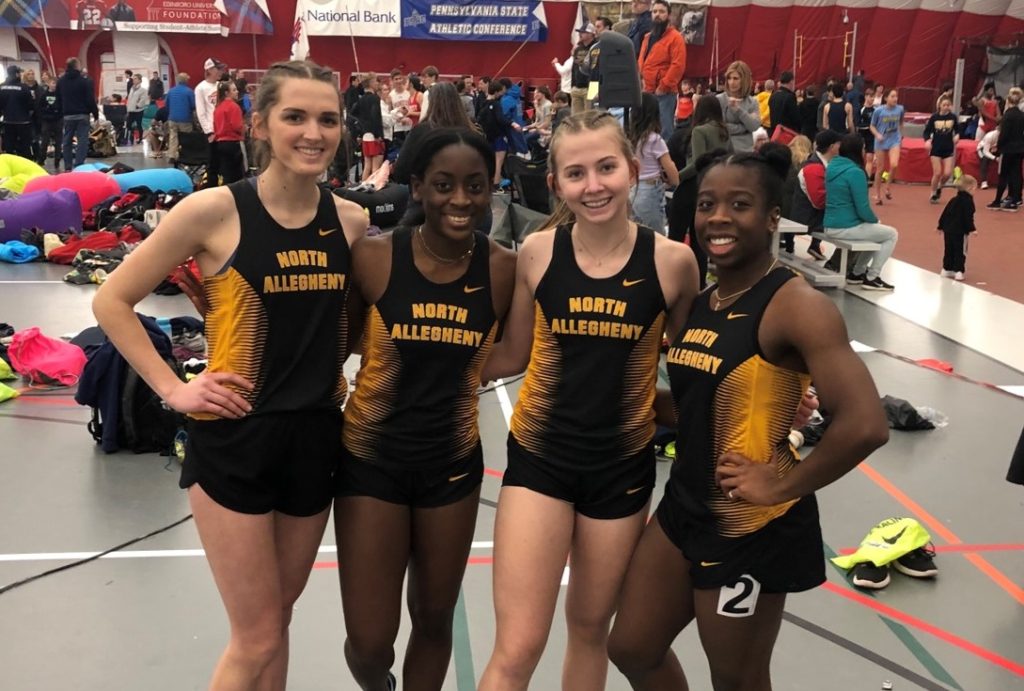 School Record broken at TSTCA Championships
As the 2019-2020 indoor season winds down, the TSTCA Championship showcased many of the best Track & Field athletes in western Pennsylvania.  And once again several Tiger tracksters traveled to host Edinboro University to compete against the toughest competition so far this year and had one last chance to improve their times or marks in an attempt to qualify for next week's PIAA Indoor State Meet.  The Boy's team had both young and old finish in the top 10 of their respective events.  Senior Jack Walsh finished in ninth place in the Pole Vault.  Noah Plenter qualified for the finals in the 60m High Hurdle race and finished in eighth place overall.  Freshman Owen Curran finished eighth place in the High Jump while teammate Isaac Burt finished third.  Dan McGoey and Scott Nalepa raced well in the 3000m Run and captured third and eighth place, respectively.
The Girl's team had an extremely successful turnout as they continue prime and ready themselves for the outdoor season competition.  Freshman Ginger Tegtmeier captured 10th place in the 400m Dash as did Lola Akindele in the 200m Dash.  Aveline Plenter-Krelling hurdler her way to a 10th place finish the 60m High Hurdles.  Sophomore Kena Shannon raced well to place ninth in the 800m Dash.  The dynamic duo of Keeley Misutka (3rd) and Hannah Lindgren (4th) beat most of their competition in the 1600m.  Hannah also finished third overall in the 3000m Run.  Eveline Wiethorn captured third place in the High Jump.   Senior Casey Burton dominated her competition most of the indoor season as this meet showed no exception.  Casey was able to win not one, not two, but three First Place awards in the 60m and 200m Dashes and the Long Jump. The 4x200m Relay, consisting of Emily Naughton, Lola Akindele, Sara Hogan, and Casey Burton broke the school record with a third-place finish time of 1:47.38.
Three Tigers have qualified for the PIAA Indoor State Meet, which will be held at Penn State University on Sunday, March 1.   Dan McGoey and Hannah Lindgren both qualified in the 3000m Run.  Casey Burton qualified in all three of her primary events, the 60m Dash, 200m Dash, and the Long Jump.