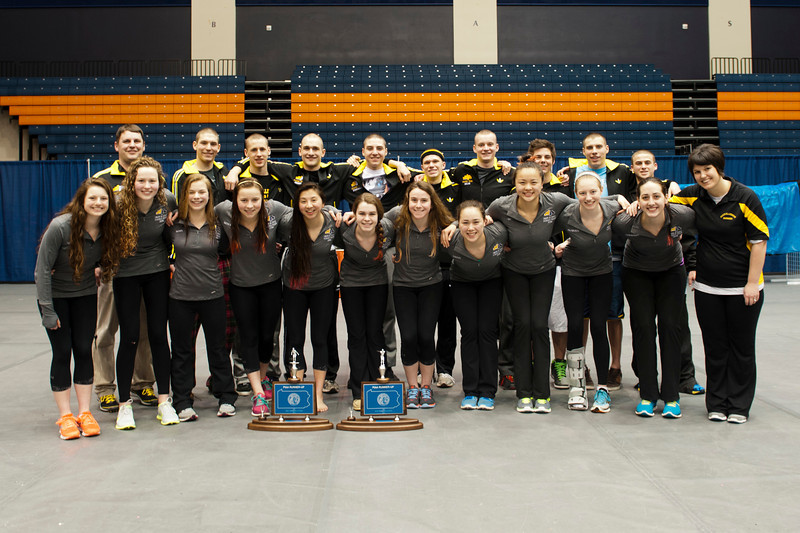 Silver Medals For NA At PIAA Swim Championships
The North Allegheny Swimming and Diving teams secured second place finishes at the 2014 PIAA AAA Swimming and Diving Championships which concluded on Thursday at Bucknell University.  The Tiger Boys finished in second place to LaSalle College High School, while the NA Girls were runner-up to Hershey High School. 
Thursday's action for the Tiger Boys saw Zachary Buerger outracing the field to win the 500 Freestyle race going away with a time of 4:22.75.  The win was Buerger's second individual event gold medal of the meet and made him a two-time winner in this event.  Buerger's senior teammate, Sam Rutan, finished in fifth place of the 500 Freestyle.  Casey Melzer swam well enough to earn a sixth place finish in the Boys 100 Yard Breaststroke, while Greg Arnold finished in thirteenth place in the Boys 100 Yard Backstroke, and Max Staresinic contributed with a sixteenth place finish in the 100 Yard Freestyle.  The NA Boys capped off the competition with the 400 Freestyle Relay team of Buerger, Staresinic, Melzer, and Rutan finishing in third place of one of the most exciting races of the meet.  That finish secured their winning the second place trophy in the team competition.  Because of his top performances, Zachary Buerger was awarded the Outstanding Male Swimmer of the Meet.
The NA Girls kept pace in their championship finals session with similar solid performances to earn their runner-up position in the Girls team competition.  Morgan Soulia sped to an eighth place finish in the 100 Yard Freestyle, while Lauren McGrath grabbed nine place in the event.  Gianna Caputo swam well enough to earn a sixteenth place finish in the 500 Freestyle in her first visit to the meet.  In one of the most eagerly anticipated races of the meet Jacquelyn Du  swam a fierce race, but came in second place in the 100 Yard Backstroke, with Kayla Churman placing sixth in the event.  Also, Erin Kuhn placed sixth in a very fast Girls 100 Yard Breaststroke event.  On the day, Julia Vespoli also added points for the Tigers with a hard fought tenth place finish in the Girls 1-meter Diving event.  The Tigers finished strong with a second place finish in the Girls 400 Yard Freestyle Relay and securing a second place finish overall for the NA team. 
The meet concluded another successful Swimming and Diving campaign for North Allegheny.  Congratulations to all of the NA Swimmers and Divers, first year Head Coach Patrick Wenzel, Diving Coach Patti McClure, the assistant coaches, and all parents and boosters.  You are all — Tigers for Life!
For a list of team results, click here for the boys and click here for the girls.