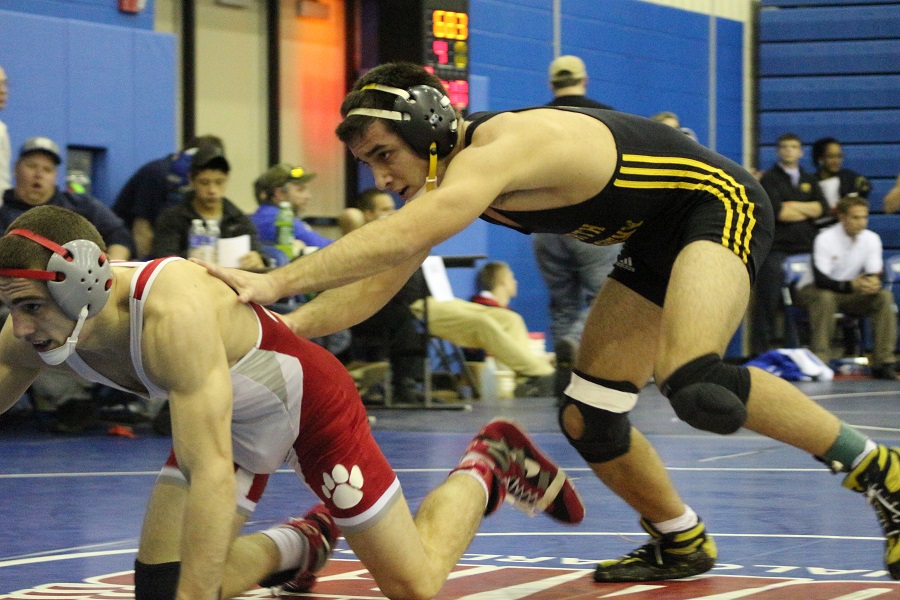 Six Tigers Advance To Semifinals At WPIAL Individual Tournament
North Allegheny will have six representatives in the semifinals in Day Two of the WPIAL individual wrestling tournament. Luke Landefeld (126), Jake Hinkson (138), A.J Boeh (145), Sean Hoover (160), Jake Woodley (182) and Francis Duggan (195) all won their first round and quarterfinal bouts to open the tournament on Friday at Penn Hills High School.
Landefeld picked up a win by fall over Gino Silvat of Montour to start the day at 126 pounds and followed that up with an 8-3 decision over Cole Rush of Waynesburg. At 138, Hinkson quickly pinned Upper St. Clair's Thomas Kyle and earned a 5-0 decision over Scott Dietrich of Butler in the quarterfinals. Sean Hoover garnered a 9-3 decision at 160 pounds over Collin Eger of Chartiers Valley, and in the quarterfinals claimed a win by fall over Nate Vukovich of Armstrong. Woodley, at 182 pounds, claimed major decision wins over Bryce Biskup of Penn-Trafford and Korbin Bundy of Greensburg Salem for a trip to the semifinals. At 195 pounds, Duggan claimed a major decision over Chartiers Valley's Salvatore DiBacco and an 8-3 decision over Jake Pickup of Franklin Regional in the quarterfinals.
Also continuing into the second day of the tournament for the Tigers will be Jake Downing (106) and Zach Stedeford (132) who will be competing in the consolation bracket. A complete listing of North Allegheny wrestlers and results are below.
Semifinal round action and second round consolations will begin at 10:00 am from Penn Hills. For extensive live coverage of the WPIAL individual wrestling tournament, follow the WJPA Radio wrestling page by clicking here.
WPIAL Class AAA Wrestling Championships - Day One
Friday, March 4 at Penn Hills High School
| Weight | Wrestlers | Score |
| --- | --- | --- |
| 106 | Jacob Downing (NA) maj. dec. Kyle Burkholder (Connellsville) | 9-0 |
| Quarterfinals | Jacob Dunlop (Belle Vernon) dec. Jacob Downing (NA) | 1-0 |
| | | |
| 126 | Luke Landefeld (NA) pinned Gino Silvat (Montour) | 3:33 |
| Quarterfinals | Luke Landefeld (NA) dec. Cole Rush (Waynesburg) | 8-3 |
| | | |
| 132 - Pigtail | Zach Stedeford (NA) dec. Alex Weber (Thomas Jefferson) | 3-1 |
| First Round | Luke Kemerer (Hempfield) dec. Zach Stedeford (NA) | 4-1 |
| 1st Consolation | Zach Stedeford (NA) dec. Logan Henderson (Waynesburg) | 7-5 |
| | | |
| 138 | Jake Hinkson (NA) pinned Thomas Kyle (Upper St. Clair) | 1:06 |
| Quarterfinals | Jake Hinkson (NA) dec. Scott Dietrich (Butler) | 5-0 |
| | | |
| 145 | A.J. Boeh (NA) dec. Trey Howard (Waynesburg) | 8-1 |
| Quarterfinals | A.J. Boeh (NA) dec. Scott Joll (Belle Vernon) | 10-3 |
| | | |
| 152 - Pigtail | Jon Hoover (NA) pinned Z. Magdich (Trinity) | 2:28 |
| First Round | Austin Bonacci (West Mifflin) dec. Jon Hoover (NA) | 5-2 |
| 1st Consolation | A.J. Buckiso (Peters Twp) dec. Jon Hoover (NA) | 3-1 |
| | | |
| 160 | Sean Hoover (NA) dec. Collin Eger (Chartiers Valley) | 9-3 |
| Quarterfinals | Sean Hoover (NA) pinned Nate Vukovich (Armstrong) | 4:51 |
| | | |
| 170 - Pigtail | Jacob Fritsch (NA) pinned Nick Rendulic (Mt. Lebanon) | 3:23 |
| First Round | Matt McGillick (Penn-Trafford) maj. dec. Jacob Fritsch (NA) | 13-4 |
| 1st Consolation | Jacob Bombardier (Montour) dec. Jacob Fritsch (NA) | 3-1 |
| | | |
| 182 | Jake Woodley (NA) maj. dec. Bryce Biskup (Penn-Trafford) | 11-3 |
| Quarterfinals | Jake Woodley (NA) maj. dec. Korbin Bundy (Greensburg Salem) | 14-3 |
| | | |
| 195 | Francis Duggan (NA) maj. dec. Salvatore DiBacco (Chartiers Valley) | 11-2 |
| Quarterfinals | Francis Duggan (NA) dec. Jake Pickup (Franklin Regional) | 8-3 |
| | | |
| 220 - Pigtail | Sterling Miller (Connellsville) dec. Derek Devine (NA) | 8-4 |
| | | |
| 285 | Billy Korber (Belle Vernon) dec. Chuck Sanders (NA) | 12-6 |
| 1st Consolation | Louis Mauro (Connellsville) dec. Chuck Sanders (NA) | 9-2 |